SEO for healthcare has become imperative. Don't believe us? Here are some statistics.
There was a study that revealed that more than 80% patients search for their doctors/ dentists or hospital on Google
It also added that online top search results can drive 3 times more patients to hospitals than the ones that are pushed down
There are more than 40% patients who search for medical service from their mobile phones and schedule an appointment from their smartphones.
If the patient were not familiar with the hospital, more than 52% viewed an online video
To get top rankings for a healthcare provider or a doctor, well, it doesn't happen overnight. It takes SEO strategy, time, commitment from digital marketing experts and a well-planned content marketing strategy to get results from digital marketing efforts.
You have a website for your hospital or practice – great. But now starts the real work.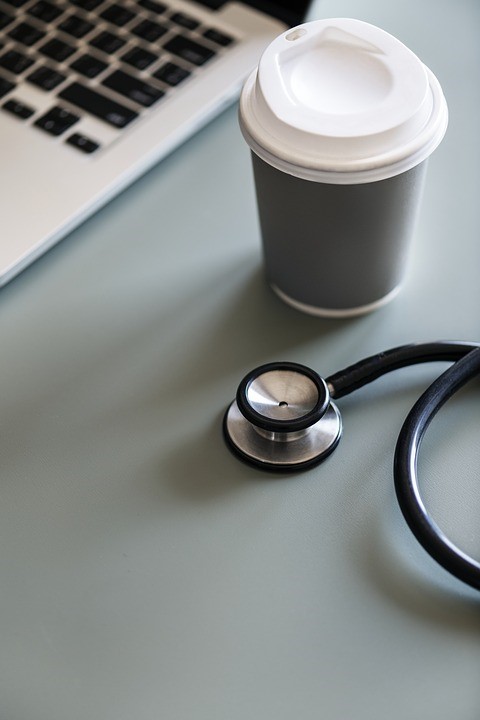 Image Source: https://pixabay.com/en/technology-cardiac-care-checkup-3154811
We give you 15 SEO hacks that can make our business visible on the Internet and drive patients to your website.
1. Use the most effective Keywords
Keywords research is critical for your medical practice. You need to know the top keywords that will fetch you the right patients for your practice. With the help of the right keywords, you get the traffic from the desired patients and not just any traffic (since that will not add to the bottom line of your business). For example, if you're a pediatrician, your keywords should be relevant in the given area. Creating content for the relevant keywords can increase your chances of showing up in top search results.
2. Use optimized title tags and meta descriptions
The metadata is required at the time of website administration. It contains title, tags and description. Title tags are supremely important as these give the purpose of the website to search engines. You must include keywords within the 60 characters of title tags. Further information can be added in meta description and be limited to 160 characters.
3. Use of reliable inbound backlinks
One of the top most value additions of inbound links is the volume of organic traffic it can attract. The more authority your website has, the higher it will be ranked. The linking website should be relevant to your practice area and not just any link (for example link farming fails miserably). The backlinks should be websites that search engines trust. If you create great content, the number of inbound links will increase over a span of time and strengthen your website.
4. Write unique and fresh content
Your practice, website and services will stand out if you offer unique content. Doctors and health practitioners have an advantage where they can offer informational content to website visitors. Patients always have so many questions and if you're able to establish an expertise and trust online, you have a major advantage. The website content can be kept afresh with patient testimonials, latest medical breakthroughs, blogs and educational information. Search engines favor websites that have fresh and updated content.
5. Create a FAQs page for patients
It's a great opportunity to capture your most relevant keywords on the FAQs page. You can cover the commonly asked questions, include symptoms, include keywords and key phrases and case studies to establish your reputation with sufficiently answered questions.
6. Include a sitemap on your website
If you include a site map, your website stands a strong chance of ranking on search engines. It helps search engines to understand how your site is connected and structured. A sitemap helps your users to have better accessibility to your website.
7. Use Local SEO
Medical practitioners cannot do without local SEO. One of the key factors for any patient is the distance of the doctor/ hospital/ dentist from their residence. Local keyword has the medical search term and the location of the doctor. It is imperious for medical professionals to have the right Local SEO strategy to establish a strong local online presence.
8. Use health related infographics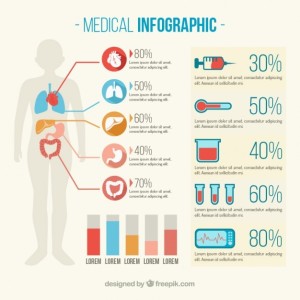 Image Source: https://www.freepik.com/index.php?goto=74&idfoto=837484
Informative, compelling and attractive infographics can grab the attention of your online visitors within seconds. You can engage with a graphic designer to get help on infographics and don't forget to optimize these images as well. You need to effectively promote the infographic on social media platforms to get hold of some more attention.
9. Use videos
Just like infographics, videos are more appealing and relatable. With some awesome new video making tools available, you don't need a huge budget or a big production company to develop videos. The video content should be informative, effective and engaging. Do not forget to share your video on YouTube and Vimeo with a catch title and relevant meta tags.
10. Participate in medical discussion forums
Discussion forums are a great place for doctors to establish their forte and point visitors to their website. It's not a good idea to span these discussion forums and comment even when you're not required to. If you give genuine advice to people seeking expert medical opinion, chances are that your website traffic will receive a boost.
11. Get listed in medical directories
You need to research the most relevant medical directories (most of which are free) of doctors and medical practitioners. Submit a link of your website and when doing a directory submission, you must update the title and description each time.
12. Get a Google Business page
It is particularly helpful for medical professionals to get a Google My Business page. If you have a huge fan following for your Google Plus profile, the rankings for your local search results will be higher.
13. Get more social
It is obligatory to have a social presence and a strong network across social media channels. If something interesting is shared on social media, the chances of it becoming viral and popular are quite high. It will be engaging for readers to read about the doctors' success stories on social media platforms.
14. Get your website mobile-friendly
Google gives preference to websites that are mobile-friendly. If your website is responsive, you are ready for a much larger set of audience than if you're not. You not only need to get mobile-friendly but also have a mobile app to become accessible to maximum number of people.
15. Paid Ads
If you wish to generate more traffic from targeted keywords, a PPC campaign is just perfect for you. It will get you faster, better and more qualified traffic compared to organic search optimization.
Being in the medical profession is synonymous to being busy. It can be overwhelming for medical professionals to employ the SEO strategies listed above. With the help of a SEO expert like Digital Success team, your medical practice can achieve long-term sustainable and successful business growth and brand name.