The algorithm proved to be a blow to the websites with copyright infringements. But it only impacted their rankings and not their existence.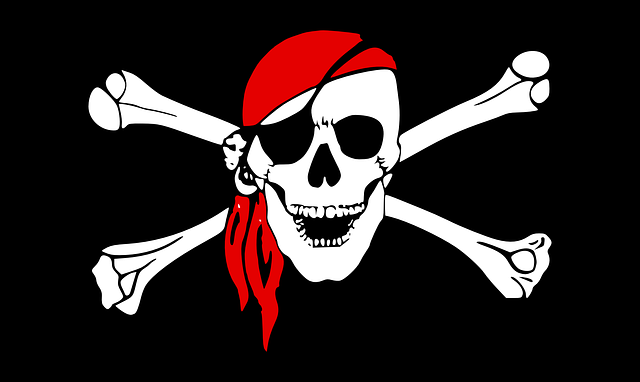 Source- https://pixabay.com/en/pirate-flag-bones-skull-danger-47705
Recently Neil Patel shared the impact of the Google' Pirate update, an update that was first introduced in 2012. The pirate algorithm was known to be quite different from the other algorithm updates like penguin, panda or pigeon as it didn't need users to do something to improve their search engine rankings. The main purpose of the Pirate algorithm update was to keep a check on online piracy and it was primarily Google's attempt to curb illegal online services. An attempt to enforce the 'The Digital Millennium Copyright Act' (DMCA), the algorithm supported the law that makes it illegal to use digitally protected data.
The next update of the algorithm was made two years later in 2014 and it attempted to remove websites (that were most likely pirated) from the search engine rankings. So somebody searching for a pirated website sees a message like the one below:

After the update, Google attempted to lower the rankings of websites that are torrents or most likely seem to have copyright violations (after receiving requests to block such websites). Some of the popular websites that promoted pirated content like mp3skull.com, myfreemp3.cc, etc. experienced a major drop (as high as 96%) in search results.
While Google receives a lot of complaints to block websites that violate copyright, it takes valid documentation to actually block any website. A user who wishes to report pirated content has to fill a form for removing content from Google. This doesn't mean that Google will magically erase the website but it means that it will remove that URL from its index.
Like all other algorithms, Google isn't transparent about how the pirate algorithm works but is serious about eradicating piracy. But in doing this, is Google making the right decisions? The copyright laws are complicated and it is only with the support of DMCA, Data Protection body, Trademark law, etc. that a right decision can be actually taken.
Jayson DeMers in his Forbes article in 2014 rightly questioned, "Google, in this case, has become something of an unquestionable judge, distributing penalties as it sees fit. Most people wouldn't argue against the search engine giant striking out against illegal enterprises, but since Google is operating independently, could this be the beginning of a new trend that extends beyond matters of legality?"
Save
Save