If you've used the internet in the past 5 years, then programmatic advertising has already affected you and you didn't even know it. This shouldn't come as a surprise, though, since marketers spent $22.10 billion in 2016 on this marketing channel alone. Here's why.

What is programmatic advertising?
Programmatic advertising is the online ad bidding and buying system that allows marketers to reach the audience they've selected as valuable at the ideal time with a specified message. This system is automated by machines and touches online users across multiple device platforms.

Why do people use programmatic advertising?
It cuts out human error and waste when purchasing ad space online. One thing we know for sure is that humans make mistakes and cannot work 24 hours a day. Because machines can and do it at scale, there's little reason to involve humans anymore. All the humans have to do anymore is figure out who they want to target, how they want to target them, and the message they would like to send to them. Machines take care of the rest!

Why is it growing so quickly?
eMarketer's senior analyst Lauren Fisher had this to say about the growth of programmatic advertising.
"Programmatic is extremely efficient and unparalleled in its ability to pair rich audience data with ad inventory and targeting."
"Buyers and sellers are becoming more comfortable with the technology. As a result, it is being rapidly adopted across a variety of channels and ad formats."
And mobile is the main driving force behind why programmatic advertising has grown so quickly. The percent of total spend dedicated to mobile is over two thirds at 69%.

The tactics
Virtual fencing or geo-fencing: Drawing a fence around a geographic location and targeting those in that area with a programmatically purchased ad allows for several things to happen.
1. You can target your competitor's customers and leads. Placing the fence around their locations gives you access to track and target all who entered that area with your own message.
2. Target those who enter stores which offer something related to or depend upon your product/service.
3. Virtually fence your own stores to track all who visit you and stay top-of-mind with them through advertisements.
4. Target every person who visited a trade show or event with your brand's message.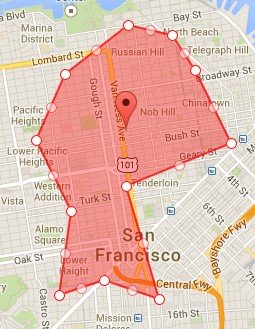 Data Onboarding: Onboarding your company data (CRM data generally) into a programmatic advertising campaign lets you do two things.
See past data on who bought from you and what they bought from you to create custom (dynamic) ads to be served to your past customers and keep them coming back.
Create an accurate and useful look-a-like audience from those who have already bought from you.
Persona Targeting: Programmatic advertising lets you drill down into the exact demographics of who their target audience is and focus your ads only on them. Persona targeting illustrated looks like this:

Contextual/Category Targeting: When someone is reading or researching a page online that is related to what your company offers, you can serve ads to them on those pages provided there are ad spaces to purchase. And because programmatic ad buying software lets you designate the topics and keywords you want to target, you can buy ad spaces on pages that contain your competitor's names.
Keyword search targeting: When a potential buyer searches for a product or service (or something related to it) you can tag them and show your message to them wherever they go. What's cool about this is that you can actually tag someone that searched for a competitor and show your ads to them based off that as well.
Site Retargeting: When someone visits your site or a specific page on your site, you can buy out the ads wherever they go. This allows your investment to get them to your site to be maximized.
IP Targeting: IP targeting gives marketers the ability to focus in on the exact IP of a building or buildings that they think are a valuable piece of their target audience. This method of geo-targeting works of the internet identifier that can allow marketers to be extremely selected about their targeting.

Programmatic is the future of online ads
$22 billion were spent on it in 2016, and $27 is forecasted for the remainder of 2017. Programmatic is growing by leaps and bounds and it's easy to see why. Its versatility allows marketers to do things they've previously never done before and at a fraction of the effort or spend.
Learn more about how programmatic advertising works here, in our detailed description of the marketing strategy.