Top 10 Healthcare Digital Marketing Tips That Ensures Success!
In the era of digitalization, almost all industries are incorporating changes to meet the demands of the day. Healthcare digital marketing is no different when it comes to innovation, advancements in the technologies and digitalization. In fact, healthcare online marketing has also started affecting the marketing strategies of the healthcare industry.
A study conducted by Pew Internet & American Life Project in 2013 revealed that 80 percent of the internet or we can say 93 million Americans searched for a health-related topic or a health solution online.
Also, according to eMarketer, the healthcare sector has shown an increase from $2.02 Bn in 2016 to $3.14 Bn in 2019 in terms of the amount spent on digital ads.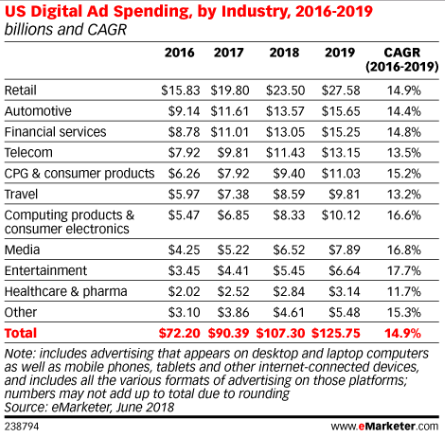 Source eMarketer
Since more and more people are now depending on the internet for online healthcare solutions, there is an urgent need for healthcare firms to make inroads in the healthcare digital marketing realm. In this regard, these firms can seek services of a reputed healthcare digital marketing agency and rank better on the search result and engage with more clients.
Meanwhile, we will be sharing with you the top 10 healthcare digital marketing tips that will ensure success.

1.  SEO Your Website/Blog
"Google only loves you when everyone else loves you first." 
–Wendy Piersall, Author, Blogger and Artist
The first and foremost thing when it comes to healthcare online marketing is your capability to "reach" out to the masses.  
As a PEW Study revealed that around 77% of US internet users use "search engines" for health-related information. Subsequently, if your website content is not SEO'd you will never be able to reach out to your target audience.
Source Pew Research Center's Internet & American Life Project
For those who are new to the online marketing realm, Search Engine Optimization (SEO) is a method to increase relevant traffic to your blog/site by optimizing your website content to the keyword specific searches that people are most likely to use in their search.
Geo-Tagging SEO is another great technique if your business has a local office in the locality. For instance, if you are situated in Dallas you can optimize the webpage to appear first for searchers in Dallas. In this regard, you can take help from a reputed healthcare advertising agency in Dallas.
2.  Effective Video Marketing
According to Cisco's Visual Networking Index, internet video traffic has reached 80% of all consumers and is expected to increase to up to 82% of total consumer internet traffic by 2022. It means that 82% of the people who will be using the internet by 2022 will be using it for watching video content!
These facts indicate how important it is to use "video marketing" as a healthcare digital marketing tool to make your presence felt online.
Interestingly, another study suggests that messages embedded in videos are 9 times more likely to be retained as compared to the audience reading it in the text. As such, without wasting a minute, prepare the infographics for your website today. If you need help in preparing the best infographics for your website, you can consult a well-reputed Healthcare advertising agency in Dallas.
3.  Develop an Engaging Social Media Marketing Plan
"Content is fire; social media is gasoline."
 –Jay Baer, Bestselling Author,
Marketing Expert and Founder of Convince & Convert
If you are still not using Social Media for healthcare online marketing then you are missing out on a big chunk of clientele. Nowadays, social media platforms offer easy marketing tools to reach out to potential clients effectively.
In this regard, a study by PWC research indicated that around 75% of Americans use social media to research their health-related symptoms.
It is a good practice to spend a couple of hours a week to promote your services on the social media platforms, reply to queries asked by your followers, or share any content that your audience might like to see.
Another good thing is that insights from social media platforms offer explicit feedback which, in turn, allows you to fine-tune your strategies with increased targeting techniques.
It is not necessary to engage yourself on every social media platform, as this can get quite hectic. Instead, devise a simple yet powerful social media marketing plan with a strategy to have a consistent posting schedule, replying to the queries. In addition, scheduling a live Q&A session every now and then can do wonders for your healthcare online marketing campaign.
To fulfill the above task, Facebook is the must-have platform for almost every kind of business due to its enormous user base and targeted audience.
4.  Nothing Beats Mobile-Friendly Websites.
Your website fulfills the purpose of a welcome point and usually creates the first impression on the online visitor or consumer of your service. Since there is a large community of consumers out there using their mobiles for searching online health solutions, your website should be mobile-friendly and easy to use.
It has been observed that mobile-friendly website significantly increases the chances of acquiring hundreds of new patients. Also, as indicated by think with Google study which reveals that 44 % percent of consumers who search for hospitals on their smartphones end up scheduling an appointment.
5.  Share informative content
"Marketing is no longer about the stuff that you make, but about the stories you tell."
–Seth Godin, Bestselling Author and Blogger
Content marketing is one of the biggest tools in the digital marketing realm. If properly used, effective content marketing alone can make you a leader in the industry.
Sharing new and updated educational content on your website, blog or social media platform is a very effective healthcare online marketing techniques that you can use to grow your business.
The content marketing method actually builds your audience passively without directly selling your product and service to customers. As such the PEW study suggests that around 72% of internet users in America go to the internet to specifically find out the symptoms, diagnosis, and information related to their medical problems before actually stepping into the physician's office. So, if your content really contains in-depth health information, then you can easily capitalize on your potential clients and make them your permanent customers.
6.  Be Flexible and Have Multi-channel Touch Points
It is a great practice to ensure that the traffic that is coming to your site can have multiple channels through which they can reach out to you. The more outreach options you provide to the clients, the better your engagement rates will be.
Since every consumer is different from the other they have different behaviors. Some may like to engage with a text message, while others may prefer to reach out to you through emails or social media inbox.
Therefore, by providing multiple touchpoints to the customers, you will increase the user engagement which is the key to success in digital marketing.
7.  Personalized Emails Still Matter
There may be instances when your client may not remain actively in touch with you. In such times sending a personalized email or a newsletter with fresh content can reinvigorate the client's interest and help to retain them.
Another benefit of this strategy is that by constantly educating your patients through an informative email will keep your audience interested in your products and services.
These informative emails can be in the form of your blogpost, Video Content or current healthcare tips and will greatly help the healthcare online marketing campaign.
8.  Your Clients' Testimonials Means A Lot
"90% trust peers on social networks (even strangers); only 15–18% trust brands."
–Danny Brown, Award-Winning Marketer and Author
 Your businesses' online reputation is of vital importance to your success. In this regard, the narrative of your patients can greatly influence potential customers into making decisions.
A study by Dan Hickley of Moz reveals 67-68% of consumers' decisions are impacted by online reviews.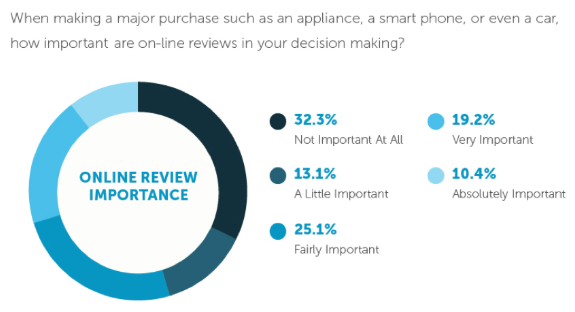 Source Moz
Another survey from brightlocal suggests that 85% of people tend to trust online reviews just as they trust personal recommendations. Any positive review, therefore, poses a significant impact on the new consumer that just lands on your website.
Therefore, try a more proactive approach to post positive reviews on your platforms. You may simply ask your customers for their reviews or can also use integrated programs that automatically ask website visitors or send emails to your patients requesting to review the services that have been offered to them.
9.  Use Analytics – Data is Important
If you are not using the power of analytics then you may well end up spending a lot more money and that too on probably the wrong strategy. A good healthcare digital marketing agency can greatly help you in this regard.
The best part of digital marketing, when compared to traditional marketing techniques, is that you can get feedback on the performance of your marketing strategy.
With the latest analytic tools available in the online world, you can always measure the return that has been generated against the investments.
This can allow you to tweak your marketing strategy according to the trackable results before well running out of your budget.

10.  Make a Compelling Landing Page
Landing pages are the face of your business and the first thing about you that your clients will ever see. Don't forget to make a lasting impression on the visitors as it matters a lot. Here are a few tips to make your landing page effective.
Generally, you must keep its design simple with compelling infographics. In addition, place a call-to-action button at a prominent location of the page. For instance, making an appointment, contacting you or your assigned physician, or accessing the basic healthcare tips should be easily accessible on your landing page.
Conclusion
We are sure that by using these effective healthcare digital marketing tips you will be able to reach out to maximum clients and create a relationship of trust and confidence with them. In case you want help with any of these marketing tips, you can contact a reputed healthcare advertising agency in Dallas who help you optimize your marketing strategy to give maximum benefits.