The marketing challenges of today have similar characteristics as those of yesterday, the desire to get noticed and look good while doing so are universal, but the scene has changed. Firms in markets across the world compete for top spots in search results, hoping to be noticed by their audience, and a burgeoning industry has emerged for teams who can help shine this new spotlight on their clients. We are proud of the work we do to help our clients get noticed, and we are proud to have been noticed while doing so.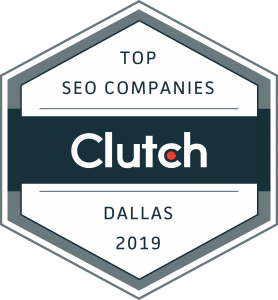 It is with great excitement we share that we have been named an industry leader among the top SEO agencies in Dallas. This accolade comes to us courtesy of Clutch, a ratings and reviews platform for B2B vendors that collects in-depth data and verified client reviews for service providers in a number of industries. We were stacked against nearly 200 of the top agencies in Dallas, and we were incredibly pleased to be featured as one of the top ten firms as a result of such a stiff competition.
The research to which we were subjected was rigorous, with considerations being made for our marketing presence, company portfolio, and most importantly, our client reviews. Not only are we featured as an industry leader, but we also have a perfect five-star rating as a result of our client reviews. Reviews like,
"Their ability to do a lot of work at once is impressive, as is the number of resources available and the knowledge on the combined team."
COO, Financial Services Company
"It's not just that their skills and results that are impressive, but their consistency, the trust factor, and the fact that they're service oriented."
We value the opportunity to be evaluated by industry analysts, but the chance to receive feedback from our clients is invaluable. We have built a great base of reviews, and we cannot wait to see what else our clients will say about our work.

In addition to our presence on Clutch, we have been featured as a top SEO firm on their sister-site, The Manifest. The Manifest is a resource that provides industry insights and how-to guides to businesses of all shapes and sizes, helping teams recognize and address any number of challenges they may have. We were listed on their directory of the top SEO companies in Dallas, with notice being taken of our client reviews and the reputation of our clients. And to further demonstrate the quality of our work to our clients, we have created a profile on Visual Objects, a comparative shopping platform for digital marketing agencies and other service providers. We are hopeful that this growth in our reputation and online presence will help us reach new audiences, and convince them to invest in their visibility.
We are glad we took this moment to share our success, but we would also like to express our gratitude. Thank you to everyone who has put their faith in our services, your support empowers us to do what we love and it has been a pleasure forming strong partnerships with you. We are proud to be featured as industry leaders, and we are confident that we are only moving up from here.