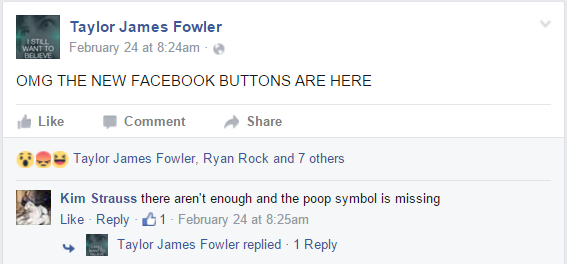 After its long awaited arrival, the new reaction function on Facebook introduced last week was generally met with excitement. Causing quite a buzz, Facebook's feed is so far seeing a decent improvement of post interaction due these classic like alternatives.
Just about a year ago, Zuckerberg and company told us that it was time to move past a simple like for one important reason:
"Everyone's had one of these posts in News Feed where they're like, I want to respond in some way, but 'like' doesn't feel appropriate at all."
Of course, they also rolled this out due to the infinite requests for a dislike button as well. Facebook's News Feed team looked at thousands upon thousands of statuses and went through their comments to find the most popular one-word reactions. From there, they thoroughly tested which reactions resonated with sample users to get the best possible initial set of reactions- which is what we see today.
Failing the tests, we were surprised to hear, were the "yay" and "confused" reactions. As explained by director of Facebook's feed, Tom Alison, the yay reaction was cannibalizing the usage of the "love" reaction so they simply did away with it. Additionally, they also mentioned this about the initial set were seeing:
"It was really important to us that this was something that could be universal"
How this is all turning out
An interesting thing to note, is that only the top three reactions to a post display on that post. So it doesn't matter if a video makes you sad if you're not reacting the same way everyone else is. Kind of like this:

Here the most popular are visually displayed as like, love, and angry, as dictated by those rating the post.
Because Facebook users know this happens, we'll likely see an increase in "reaction bias" on posts in the future that will discourage those using the reaction function from picking anything outside of the three currently most popular reactions.
Although this seems to be of little importance; it plays into a second, very clear trend- people are still using the generic like button way more than any other reaction.
Because of this, it may be possible that the reaction function will see diminished usage in the future as the magic of Facebook's reactions wear off; such as in this post here:

Even a few days after the reaction function is rolled out, no one decided to use it. Too much trouble, perhaps? And this post isn't rare, either. Whether or not this new ability will stay highly popular remains to be seen.
Yet, because of the varying range of reactions people have to posts in real life, we find this introduction extremely helpful overall to both publishers and users. Facebook's reactions have been long awaited, and the slow crawl to finally rolling them out has been well overdue. In fact, the speed at which Facebook has implemented this leads only speaks of the incredible value they place on their news feed. This is both their source of money and relevancy, so they had best take their time making any large moves this late in the game.
Despite the importance of the news feed, we hope this is far from the last of changes Facebook will be making, especially due to the heavy decline in young users they're seeing.
These kinds of things matter to us, just like they matter to you. Find out more about our ability to harness social media channels like Facebook here.