With deluge of information available on the Internet, it can be hard to isolate the relevant data from the outdated one. You don't want to spend hours optimizing a site only to realise that the tactics you used no longer works. Stop these SEO Practices listed below as they won't do any good to your online presence.
Just Create Content and Links will follow
You need both content and backlinks. And you need to promote that content. Without content, what would you optimize for search engines? But content is just one part of ranking Puzzle. The problem with Phrase "Content is king" is that it's too vague and many have come to understand this as creating tons of content and in the process turning content which is crap.
By creating million words of content and spinning it repeatedly, you are not adding any value to the already crammed internet.
It's not just alone about the quantity of content. It's a fallacy that adding more content to your website will help you achieve high rankings.
Good content should be about
Quality
Uniqueness and it should be
Relevant – It must be informative, engaging, and helpful.
SEO is Only about links
There is NO need to stop focussing on links. But, you need to differentiate Good links from bad ones. I remember the statement by John Mueller that "webmasters should avoid trying to focus on link building."
John went on to add "We do use links as part of our algorithm but we use lots and lots of other factors as well. So only focusing on links is probably going to cause more problems for your web site that actually helps"
Your site is not going to rank on content alone, but it's also true that lack of links is not the only reason why your site is languishing on the second or third page. Broken links, Page load speed, comprehensiveness of your content are also contributing factors.
It's another matter that you can't take links completely out of SEOequation either. But more backlinks does not translate to high rankings.
You can't engage visitors by creating shallow or thin content.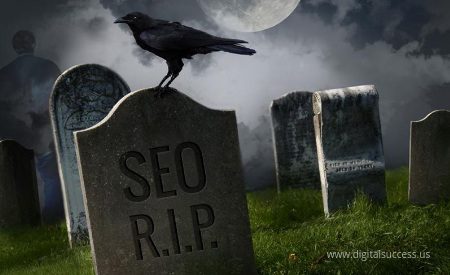 SEO is dead
Yes, SEO is dead, but it's the old school SEO. Strategies like Article spinning, Automated link building, blog comments with anchor text no longer works.
Search engines are changing and changing for the better. And you need to keep pace with them.
Things to Focus on:
As long as search engines exist, SEO will remain alive. It's NEVER too late to invest in SEO.
Exact Match Domains Rank Higher
If you are selling dental software in Lancaster, dentalsoftwarelancaster on longer ensures higher rankings. Buying an exact match domain and ranking higher in Google even with low quality content will no longer with Google's Exact match domain penalty which was added to Google's algorithm.
Is Game over for exact match domains? They can still work, but you need to be very careful about on-page and link building as threshold for over-optimization has decreased.
Google is the only Search Engine
There's no doubt about Google's supremacy, it's the King! But there are other Search engines out there. From March 2017 to September 2017, 1.18 billion unique global visitors had visited Bing.com. And YouTube – the world's second largest search engine can be a source of valuable traffic as well. You don't want to focus exclusively on Google and leave potential traffic on the Table!
No need to focus on Onpage SEO / Ignore On Page SEO
Simply put, on page SEO is ground zero, the place where you start from. It's the foundation. A house with weak foundation will collapse sooner than later.
The importance of on page seo can be summed up by what Andre Weyher – EX-Member of Matt Cutts's Search Quality team had to say –
"People are so focused on putting the most expensive fuel in their car (backlinks) that they totally forget about the basics like putting wheels on it (on page elements). On page tactics are often overlooked, while in reality they should be a key element in your SEO strategy"
Neglect on Page SEO at your own peril.
Meta keywords tag are a ranking factor
Google stopped using it long time ago . It's shocking to see people still vouching for it's effectiveness. And we are in 2018!
That does not mean that keyword research is dead. We need to organize keywords into topics, look for searcher intent and need to write authoritative content.
You need to have a certain % keyword density
There is no keyword density sweet spot. It is pertinent to note what Matt Cutts has to say
"constantly repeating a keyword/phrase over and over is more like keyword stuffing and won't really help your SEO and can actually hurt your search engine ranking. "
That was way back in 2012. It still holds true. Matt Cutts may have resigned, but his wisdom still reigns.
Search engines are not going to buy your products. Users will. So, why not write for them instead of harping on keyword density.
The future is long tail keyword phrases. Embrace Semantic search. Search engines are able to better grasp search queries. You need to keep the searcher intent at the back of your mind.
Too much focus on directory submission
The only directories we should chase are either Niche directories (for example Local directories) or directories which sends traffic to our site. Some pointers to judge the effectiveness of a directory –
Is the directory indexed in search engines? Is the Home page indexed?
When the last time the home page was indexed? Google indexing the page every few days suggests that the directory is updated regularly.
Are search spiders allowed to crawl the pages? Check robots.txt file.
Does meta tags prevent spiders from following links?
Are there too many links on the page where you intend to put the listing? Visitors as well as bots will have a hard time locating your site if your link is among 100+ other links.
Don't count on directory submission exclusively, these should be a very small part of link strategy.
SEO is NOT a one and Done Process
SEO is a Marathon, not a 100-meter race. If you run on a treadmill just for an hour, you won't lose weight. But to wear those skinny jeans, you need to be consistent on the treadmill. If you are looking for a quick and easy way to get instant results through SEO, why not invest in PPC advertising. The results are instant, only the cost can be quite high.
Now, you have a fair idea which techniques won't improve your visibility in search engines, you can spend time to focus on factors which impacts your online presence.