Top Conversion Rate Optimization [CRO] Strategies & Best Practices to Watch For in 2022
Conversions happen only because of the perfect amalgamation of hard work and smart work. It begins with the design and development of the website. One must do it carefully to support the SEO and digital marketing strategies planned for business growth. Understand that website is the first step to creating a fruitful brand image and set the foundation for growth. Thus, you should begin planning things from this first step to see significant improvement in your sales and revenue. You can go for SEO, social media marketing, and online reputation management; the goal of every strategy is to get conversions.
Turning your website visitors into a sale is known as a conversion, and it is directly proportional to the traffic on your website. The activity that plans, monitors, and manages these conversions come under the conversion rate optimization services. For better implementation and effective results, one has to choose the experts from a conversion rate optimization (CRO) agency. These experts have a thorough understanding and hands-on experience of this task and can help get the best results. To avoid getting confused about the concept and how it can help, refer to the guide we have shared below.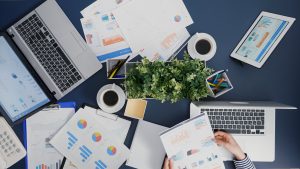 What is a CRO strategy?
CRO stands for conversion rate optimization. It is a strategic approach that ensures that the visitors coming to your website convert into your potential customers. You must have seen the call to action buttons on almost every website, including subscribe, call now, shop, and likewise. Under the CRO strategies, the experts try to increase engagement with these buttons for improved chances of sales.
Why do we need CRO?
CRO is an effective method to convert visitors into customers. Moreover, it is also helpful in understanding the user behaviour on your website and figuring out how you can plan growth in your business model. Some of the uses of CRO are as follows:
It helps offer a better onsite experience to the user by simplifying the primary tasks on the website. It can help businesses stand out from their competitors and get maximum customer attention.
You can study the browsing patterns of your audience and understand their expectations from the brand.
Using the call-to-action buttons, you can get more details about the people who visit your website. By studying this data, you can understand your audience better and figure out if you are achieving the targets.
It helps increase the traffic and the time that a user spends on your website. It eventually increases your chances of sales and multiplies your revenue.
In simple words, CRO is essential for business growth, irrespective of the vertical or domain in which the brand falls. So let us discuss the strategies that even the best Conversion Rate Optimization (CRO) Agency would use to get expected results.
CRO strategies for expected results
Better Website Experience
In times when businesses and individuals are struggling to create a unique online presence, conversions are the most challenging to achieve. It is vital to start by providing a unique, personalized, and sorted browsing experience on your website. Make sure your visitors stay glued to it and get all the information right in front of them. When users struggle to find the details they are looking for, they are more likely to switch to another option. Moreover, you also need to ensure compatibility on all digital screens. Users should get the same browsing experience on mobile as a desktop offers.
Prompt Query Responses
If you want your visitors to turn into your customers, you need to answer their queries instantly. Every buyer has multiple questions popping up in the head before making a final purchase. If they don't find satisfactory answers, they will surely drift away. Thus, it is vital to provide live chat support or cover all the possible queries in the description section. Give them detailed information about the product or services you offer and include even the simple questions in your FAQ section.
Utilize the UGC
UGC stands for User Generated Content. It can be the blogs that people wrote about your brand, reviews on different platforms, and press releases. Keep a keen eye on all these content types and ensure that they have a positive or neutral impact on your growth. You can also use the UGC in the form of reviews on your website to show visitors what others have to say about your brand. It will build their trust in the business, and they are more likely to become your customers.
Optimize the checkout page
Checkout pages are often the prime culprit behind a failed purchase. Sometimes it's the complicated checkout process, and other times, it can be the website loading speed that turns off a buyer. Stats show that e-commerce platforms experiencing a higher rate of abandoned carts should blame their checkout process. Thus, for the conversions to be successful, every CRO strategist works on optimizing this page. Make sure the buyers get a seamless payment process and complete the purchase within seconds.
Monitoring and Regular analysis
CRO is not only about the implementation of strategies. It is a continuous process where you have to make efforts every day to stay on top of the sales charts. It includes monitoring the user behaviour, purchase patterns, and visitor count on your website. You would have to do it every day to ensure everything goes as expected. If you experience a fall in your sales, you might need to review the strategies and make necessary changes. It is advisable to hire an expert who works consistently to keep an eye on the results and make necessary modifications.
These are a few result-oriented strategies that work best for the business in every niche. Understand that it is not a task that an amateur can perform with utmost efficiency. Thus, it is vital to hire the best people, providing Conversion Rate Optimization Services. Carry out thorough research and explore different available teams for CRO. Check their results and hire the one you feel would stand tall on your expectations. Make wise decisions, and this conversion strategy can do wonders for your business!