5 Reasons Why You Should Worry Even More About Page Experience in 2021?
Google has officially announced that a new ranking algorithm called Page Experience will take effect in May 2021. However, due to the COVID-19 Pandemic, they've decided to give a 6-month notice before rolling out the new update.
The new ranking algorithm will rank a web page based on how searchers perceive the experience of interacting with it. That means Google will rank your web page low if they think your site users will have a poor experience on that page.
Google will now be able to determine that due to a new set of Core Web Vitals metrics. But what does it mean, and how will the new update affect you? More importantly, why should you be concerned?
Read on because we'll give you five reasons why you need to pay much attention to the new update. We'll also show you how to prepare for Page Experience Update.
What Is Page Experience?
Google has documented a detailed Page Experience criteria in Google search results. But in short, the new update goal is to understand how users perceive a web page's experience. That is if the page:
Loads quickly
Is mobile-friendly
Runs on HTTPS
Existence of intrusive ads
Content bounces around as the page loads
So basically, Google doesn't want your users to experience the example below.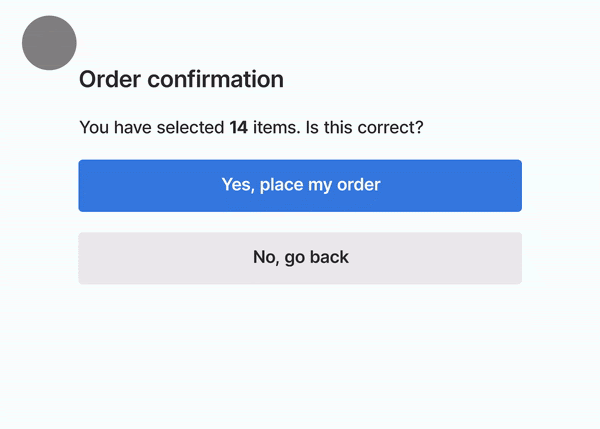 Image Credit: Search Engine Land
In the GIF above, the user intended to click on "No, go back." But the user accidentally clicked on "Yes, place my order" due to the instant pop up of the install bar. As you're probably aware, this is an annoying experience.
So, the Google update is to ensure that the websites that rank on top don't create such experiences for users.
The Page Experience consists of numerous existing Google search ranking factors such as:
Mobile-friendliness
HTTPS
Safe browsing
Intrusive interstitial, which means a web page's content is not easily accessible to a user.
It also includes refined measurements around usability and speed, which are all under Core Web Vitals.
What Are Core Web Vitals?
If you already provide a quality on-page experience for your visitors, you may not have to worry. That's because it's what Core Web Vitals essentially is. It's a page experience metric that shows the kind of experience your visitors go through when they visit your website.
They consist of three specific user interaction and page speed measurements:
1. Largest Contentful Paint (LCP):  It measures the page loading performance. Ideally, your page should load within 2.5 seconds.
2. First Input Delay (FID):  It measures the responsiveness of your web page. The FID calculates the time between when a user made the first interaction and the time it took the browser to respond. An ideal FID should be below 100 milliseconds.
3. Cumulative Layout Shift (CLS):  The CLS measures your page's visual stability. That means your web pages should not have jumping buttons. The CLS should be below 0.1.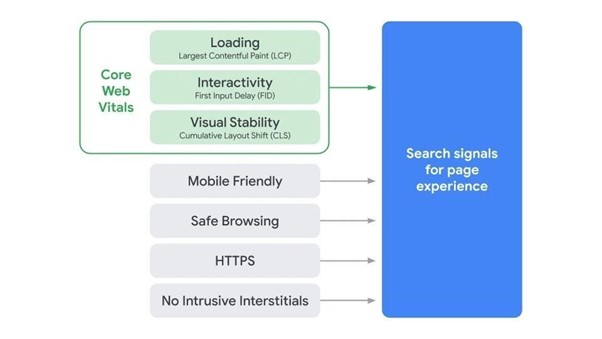 In short, the Core Web Vitals will form part of factors that will determine the quality of a "page experience" on Google.
5 Reasons to Be Concerned About Page Experience In 2021
1.   Google Will Remove AMP Requirement For Top Stories
Google will now be placing more relevance on Page Experience than Accelerated Mobile Pages (AMPs).
AMPs is an open-source framework that makes it possible to develop mobile websites that load almost instantly. That is, improving the speed and readability of mobile content pages. It's like taking an already mobile-friendly page and making it load even faster by reducing it to its basics. That means reduced CSS elements, JavaScript, and the use of CDNs.
Currently, pages that compete for the top story section on Google are AMPs only. Since its launch in 2016, more than 25 million websites have published over 1.5 billion AMP pages.
The AMPs were made particularly for media outlets and news publications, and Google only allowed AMPs in the top stories section. Now, the new Google update will change that. You'll no longer need an AMP to gain a spot in the top stories section on Google.
Instead, the Page Experience Update will determine which content should be on the top stories section.
Focus More On Mobile User Experience
If you plan on setting up an AMP page, you should probably focus on improving your website's mobile user experience.
If you run an e-commerce website, it's best to invest in Progressive Web App (PWA). That is if you've not considered it already. The PWA is an application that's developed for the web but functions more like a native application. It ensures a good user experience, and there are fewer limitations compared to AMPs.
However, if you have an AMP page already, continue to develop it. Google will continue to support AMP frameworks.
2.   Unresponsive Websites Will Be Negatively Affected
There's a higher chance the Page Experience Update will penalize your website if it's not responsive. If your website runs on a site builder that's not mobile-friendly, consider looking for a new website builder that optimizes for mobile. The same goes for sites that run on outmoded themes.
Squarespace is a good example. They don't support WebP image formats, unless older formats such as JPG, PNG, and GIF. And that tends to be slow in loading.
If you run an informative website such as a blog, you can opt for WordPress. They provide a responsive design with a wide range of plug-ins that helps to boost your user experience. If you run an e-commerce website, it's better to migrate to more e-commerce solutions like BigCommerce or Shopify.
Ideally, you can use the Mobile-Friendly Test to know whether your website is responsive. It also displays all the page loading issues found on your site.
3.   Google's Visual Indicators May Affect You If You Don't Prepare
Aside from the new update, Google plans to roll out a visual indicator. This indicator will differentiate search results that have met all the page experience requirements. The goal is to highlight search result pages with a quality page experience before users click on the page.
According to Google, they'll test the visual indicator soon. If it works, they'll add it to the Page Experience update in May 2021.
If you don't adequately prepare for this update, it can negatively affect your CTR. You'll need to realign your strategies to make sure you acquire a visual indicator. If your website doesn't meet all the requirements now, you still have a few months to prepare.
4.   Your Site Speed Can Heavily Affect You, For Real Now
As we analyzed earlier, loading time is one of the critical elements of the Core Web Vitals. How fast your page loads directly affects the user experience. As you may know, Google hates sites with slow loading time. And it's not only them, users too.
With the new update, Google will focus heavily on the page loading time. According to Google, you can increase the probability of your bounce rate by 32% if site loading time moves from one to three seconds. Five seconds delay can increase the bounce rate by 90%.
Check out the data by Google/SOASTA Research below: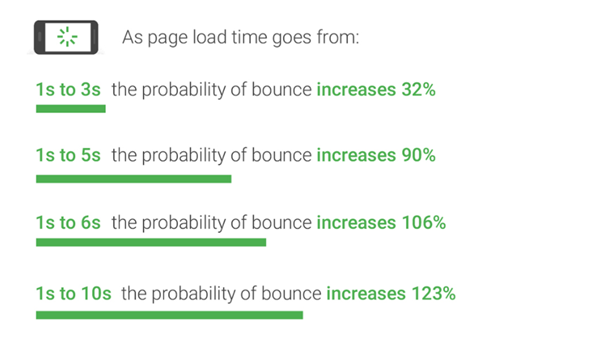 Source Image: Think With Google
You can take the first step to increase your website's speed by using Google's PageSpeed Insights. It can also analyze to determine if your site meets the Core Web Vitals assessment test.
It also shows you how you can enhance your website's loading speed. Ensure that your site passes the test to improve the user experience.
5.   Get Rid of Intrusive Interstitials
The primary reason people visit your site is that they believe you can help them solve their problems. That's why you should make sure that they can easily access your content without any distractions.
If you block the content with interstitials, you create a poor user experience for your visitors. When that happens, you can be negatively affected by the Page Experience update.
To be on the safe side, follow these examples of interstitials by Google. That way, you'll not be affected when the new update comes out. It includes pop-ups that are legal or pop-ups that don't hide a web page's primary content.
New Page Experience Tools To Try Out
Google has provided new and updated tools to help you get the analytics you need. Through that, you can improve your user experience. Use the following tools to help you evaluate your site:
Lighthouse
PageSpeed Insights
Chrome DevTools panel
Conclusion
Even though there's a significant update coming, much emphasis will still be placed on high-quality content. Google has already made that clear. A good page experience won't negate relevant content.
If you're providing quality content and pages that users can easily access and read with ease, you're already optimizing the Google page experience. The new update is still in its early stage. Thankfully, Google will give a six-month notice before the new update rolls out.
So, you still have time to put things in place.