5 Smarter Ways to Conduct Keyword Research That Nobody Will Tell You About!
As the name suggests, keywords play a key role in the marketing strategies of a website. Keywords are words or phrases that users generally type in the search bar of their browser's search engines. In today's advanced digitized era, people search the internet for anything and everything. Thus, many search queries are hitting the Web even in a small amount of time.
Simultaneously, there are umpteen portals on the internet to answer these queries. Therefore, if you want your website to highlight in the top organic search results, you must optimize your web content. Keywords are an integral part of Search Engine Optimization, and an expert SEO agency can help you know what your target audience is looking for.
The first step to knowing what keywords you should incorporate in your content is to execute successful keyword research. Unfortunately, search engine algorithms have witnessed paradigm changes over the years. Therefore, you need advanced and smarter ways to carry out this research. You can contact trustworthy keyword research service providers in this regard. In this write-up, we have mentioned some beneficial ideas by which you can have a better grip over keywords.
Nonetheless, to proceed with the keyword research, you must first realize its significance. Once you are sure about its relevance to your business, you can conduct the research and corresponding techniques with more clarity.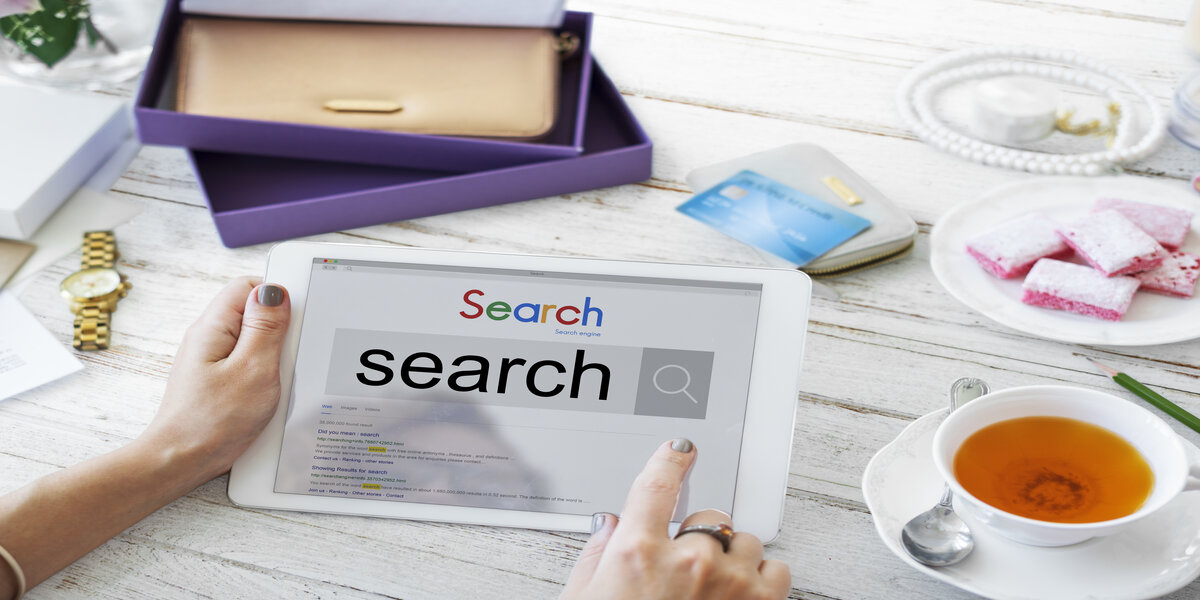 Why Is Keyword Research Important?
Search engine algorithms have evolved to a point where they can process natural language and make our contextual meaning of a word in a sentence. As a result, digital marketing professionals often feel that keywords are no longer as important as before. With advanced voice search options, keywords may seem to be an obsolete notion. However, the reality is the opposite of this belief.
Keywords are more important in today's competitive marketplace. As numerous websites are trying to assist the users, you must focus on the keywords to reach out to your audience. Also, using precise keywords is an easier method to optimize your webpage.
If your website content lacks the most searched words or phrases, there are scanty chances that your page will rank towards the top results. Thus, keywords play a vital role in fulfilling your aim of answering search queries.
When you conduct research on keywords, you get a clear idea of what the users are looking for. As a result, you can include, modify, or remove content from your website to make it relatable and relevant. An expert SEO agency can properly help you find these strings. Once your website attracts relevant viewers, and they find useful content, the probability of their conversion to loyal users increases.
What Is Keyword Research In SEO?
We have explained here what exactly researching keywords means apropos Search Engine Optimization. Keyword research refers to identifying and analyzing words or phrases that users search to know about something. Users may also type in those words while researching about a niche.
Keyword research involves the techniques of finding all the search queries that your target audience may look for. It also comprises the prioritization and sorting of these words and phrases.
So, now that you know the importance and basic meaning of keyword research, you shall find the following section more useful. Here are some of the ways to conduct keyword research smartly and efficiently.
How Do You Conduct Keyword Research Like the Pros?
When you begin identifying and analyzing keywords that your target audience searches frequently, there are many approaches to it. You can follow the conventional methods, but your competitors shall apply the same. Thus, if you want to stand out from the rest, you must employ smarter ways.
Imagine You Are the User – You will best know about your viewers' queries if you search like them. All you should do is visit your browser's search engine and enter the initial words you would like to analyze. The search engines' advanced methodology shall immediately display all the related and recent searches, completing the phrase. Trained professionals offering keyword research services believe this is one of the best and smartest ways to track what your target audience is currently seeking.
Address your Audience's Difficulties – It would be helpful to identify any prevalent issues that your customers might face. Then, you can include the solutions on your website, which will show to your users when they look for them. The problem can be due to any recent occurrence or anything existing for a longer time.
Remain Updated with Latest Events – Awareness is the thumb rule while performing effective keyword research. Users mostly search queries about something about to happen. It can be a festival, a special day, or even an upcoming weather change. A professional SEO agency always stays updated with the current affairs and news to ease the prediction of user searches. You can accordingly incorporate those keywords into your website in the form of blogs or articles.
Track Your Competitors' Evaluation – If you wish to survive in the industry, you need to know your competitors. So, make an in-depth study of your competition. First, analyze the keywords your competitor is targeting and take note of it. Now formulate the keyword lists based on the ways the competitor is doing. It will guide you to see what you might have overlooked. And will help to broaden your keyword list.
Utilize the Tools to The Fullest – You must be aware of the keyword research tools, but it is crucial to utilize them correctly. You should know all the features of the tool you employ to use it to its maximum potency. An experienced SEO agency can guide you better regarding the efficient usage of these interfaces.
Bonus:
Below is a list of quick steps and free tools with which you can get started with keyword research in under 90 mins!
Ahrefs (Free Trial/ Paid):
1. Visit Dashboard, input domain URL, of your competitor and you will find plenty of insights about the existing performance of the domain.
a. For keywords insights, visit à "Organic keywords" and you will see all the keywords for which the site is found ranking in organic results
b. You might scan through the list, or run this for other competitors

2. You can also filter list, or download the list by target locations, and based on other metrics such as position, search volume, keyword difficulty, CPC, traffic, position etc.
You have your basic list of popular keywords right in-front of you ready. Clean the list based on relevancy to your offerings.
Google Keyword Planner [Free]:
1. Signup and Login at Google AdWords Keyword Planner Tool.
2. In the "Discover new keywords" section, input a relevant search phrase which can be any close idea about your core offerings.
3. You can enter more search phrases in a similar way. 10 at a time. An example is given below, User can add up to 10 products and services and a domain if needed. After filling the products/services, choose your desired language and location for better results.
4. Hit -> GET RESULTS" and Tool will return a list of keywords based on inputs provided above.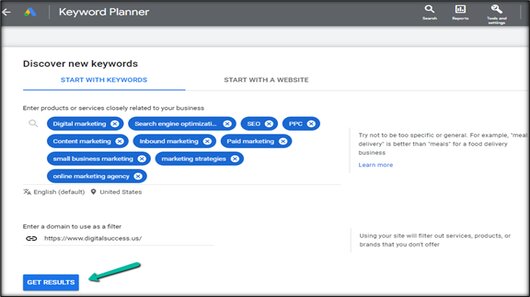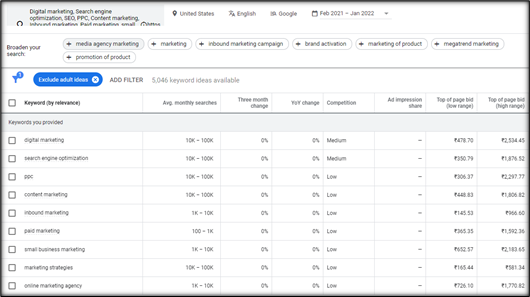 You can pick your list of desired keywords from the displayed options, download them in excel, clean list, and you have your first list of keywords to start targeting
*Mostly, we factor in the relevancy to our core offerings the average monthly searches, the competition and strength of our website and business goals to decide on keywords
Google Search Console [Free]:
Only applicable for sites which have a history and have Google Search console Configured.
1. Login at Google Search Console,
2. Visit – "Search Results" under "Performance" section at left side navigation, and you will find a table and chart displaying, Clicks, Impressions, Avg. Position & CTR data for a given timeline.

You can change the timeline using date range option available above the chart.
Also, you can change search results type, for only viewing images, videos, or news, searches insights.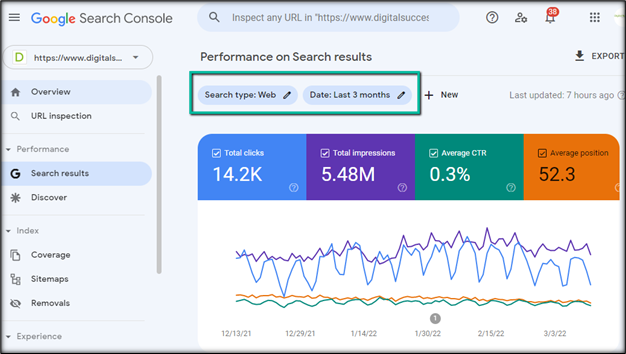 3. Screen will display up to 1000 search queries with, pages, countries, devices filters to deep dive.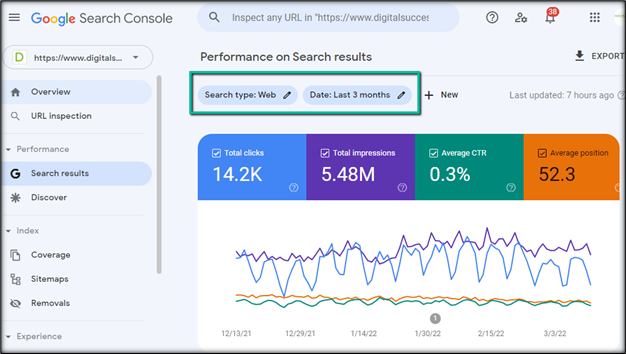 4. You can export this list, disect data to only show non-branded search queries, and based on readings of Avg.position and impression and CTR, one can identify potential and or promisng keywords which can be used for SEO targeting.
There are more ways and tons of other tools to conduct keyword research, but above three will suffice to get anyone started with practicing keyword research on their own and for free!
The Final Thoughts
Conducting effective keyword research shall enhance your marketing strategy. The more you incorporate precise keywords, the more traffic your website shall drive. To achieve this, you must research the keywords regularly. Periodic tracking of your users' search queries helps you stay updated. You can also take guidance from agencies that provide keyword research services to leverage your SEO strategies.