For business owners, being able to conquest your competitors is like finding the Holy Grail. It's a method that has endless value and should be a 'must-have' in your strategy if you're considering online advertising.
Here's why.
Modern online marketing tactics aren't stuck in the 90's anymore – They've Evolved! There are actually tools out there that allow you to target all customers that enter your competitors' stores with your branded ads. These same tools also know when someone searched for your competitors online, and can show your ads to them wherever they go.
Imagine: A customer walks into a competing store that they've been going to for 5 years. They sit down and take out their phone to open up an app. Inside that app, your ad shows a special discounted price on the thing they've been buying for 5 years. So they decide to give your store a chance.
And just like that, you've pulled one of your competitor's loyal customers into your store.
How can online advertising do this?
Below, we'll go through the competitor conquesting tactics that you can use online through programmatic advertising, but first let's define what programmatic is – It is the online ad buying system that lets marketers reach their target audience at the ideal time with a chosen message. Machines automate and optimize this process that your audience interacts with across multiple device platforms (phone, desktop, tablet, etc.)
What Programmatic Advertising tactics are used to conquest my competitors?
There are 3 main tactics to do this programmatically.
With geo fencing: We can actually draw a fence around a geographic location (i.e. a store or event) and target those who enter the fenced area with a desired promotion or general branding.
The GPS service on every phone is what allows marketers to see when someone has entered into a fenced location and serve an ad. This data is then used to trigger an in-app advertisement to the person who entered the geo-fence. This ad is most commonly served while the person is still inside the fence, but it can also be served for 30 days after they entered the fence.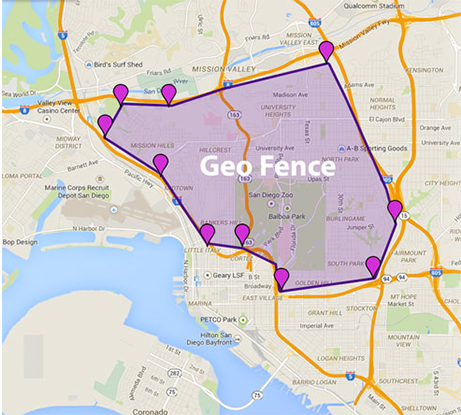 With Keyword search retargeting: When a potential buyer is in the research phase and is checking out your competitors, you can tag that person and show your ads to them wherever they go thereby influencing their final decision.
This tactic is perfect for reaching people all over the internet that show an intent to buy. If they're researching your competitors, they're most likely trying to make a decision. In the future, you should be there in front of your competitors to make sure you aren't left behind.
With Contextual targeting: When a potential buyer lands on a page that has content on it that contains your competitor's name, your branded ads can show on that page. This means when someone is reading something about your competitor you can show your message there as well.
Using this targeting ensures that your brand is found in all kinds of significant directories and review aggregators that people surf to find the right brand.
In 2017, the method of taking customers from your competitors by targeting both their brand and their stores is rapidly evolving and becoming more refined, but most companies are slow to adopt.
With this slow adoption, the first movers always reap the rewards and it's what we see every day here. If you'd like to know more about competitor conquesting reach out to us here or give us a call.