While there are a growing number of internet marketing companies out there, none of them can rival the Digital Success team's commitment to a personalized, friendly approach. Not only do we boast over 700 happy clients from our 17 years of experience, but our clients love us and are happy to review our work. That's why we have done so well on the up-and-coming B2B ratings and reviews site, Clutch.co.
We are incredibly excited to announce that recently, we were named a 2017 Clutch Global Leader among all of Clutch's digital marketing and design agencies! This highly coveted list contains 475+ of the most highly-reviewed companies around the world. Digital Success is proud to be one of the 25 companies from Texas listed and we also scored in the top 5.
"Digital marketing is changing rapidly," said Clutch Analyst Ilse Heine. "As consumer behavior changes and technology advances, businesses have to consider more factors. For example, without a strong organic and paid search strategy, content won't be found by online users. Each element connects to the other, and these high-performing agencies prove that they not only are experts in their specific practice but also have a clear understanding of how their piece connects to a larger strategy."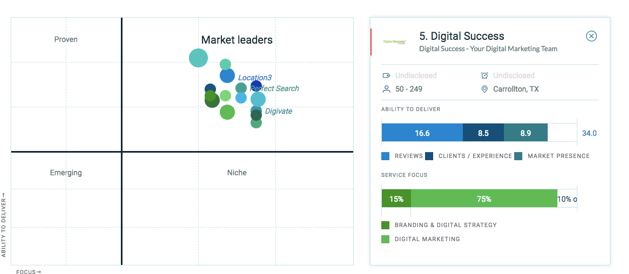 Being ranked on Clutch as one of the top digital marketing agencies among the 7000+ companies listed is no easy accomplishment. Clutch reviews companies from around the world, collecting thorough data on companies and creating verified, third-party reviews in a case study format that highlight everything from a company's available services and project sizes to their project management style and areas for improvement. Companies are ranked based on an intensive and reviews and ratings process that incorporates the quality of reviews, past and current clientele, and companies' ability to deliver based on factors like their market presence and social media standing.
It's free and straightforward to apply to get listed on Clutch. They are already starting to recruit companies to become a 2018 Clutch Global Leader, so interested companies are encouraged to apply and get started on building up their Clutch presence. The marketing field is changing rapidly and becoming increasingly important as more and more daily business activities take place online.
Once again, we are excited to share this news and to continue to grow and improve our services with Clutch! Thank you to all of our clients for making this possible and for trusting our team with all of your digital marketing needs for over 17 years.