How to Recover a Missing Account in Google Tag Manager
No matter if you work in a digital marketing agency or an SEO company, you might have recognized the wealth of tools that Google offers to bolster your marketing efforts. From Analytics to Optimize, there is no shortage of resources to boost traffic to your sites. One such tool is called Google Tag Manager.
The tool makes it convenient to manage your website and mobile app tags without needing to learn how to code. It is a completely integrated solution that can improve the efficiency and agility of your marketing abilities within hours on a user-friendly interface.
As soon as Google Tag Manager takes care of the snippets of your codes to collect information and send it to third parties, you instantly have a wealth of capabilities at your fingertips, such as keeping track of form submission, creating surveys, seeing how people land on your site, and lots more.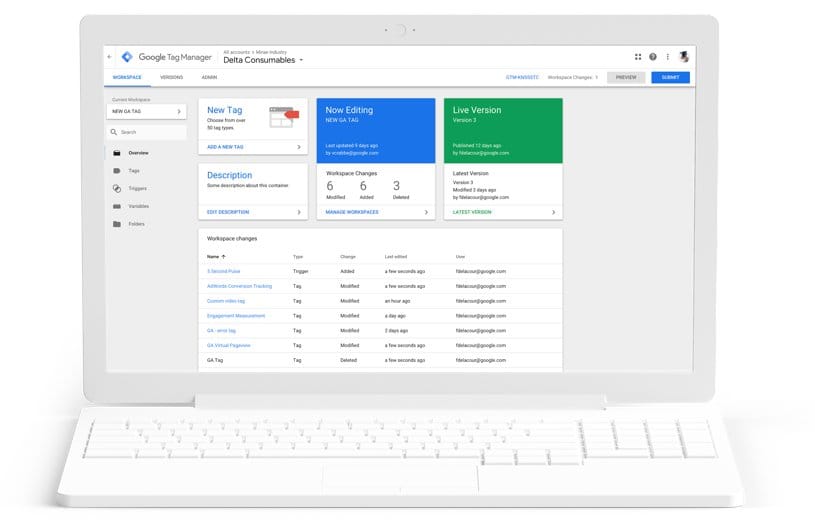 Source: Google
With such valuable insights ready at a moment's notice, Google Tag Manager is a great tool for your digital marketing or SEO needs. However, what happens if your account suddenly goes missing? Or what if you lose access to an account that was handled by a previous developer? Among a plethora of difficulties, it can be a frustrating situation indeed. Luckily, there are several solutions at hand, so not all hope is lost. Without further ado, let's jump right ahead into the best ways you can quickly recover a missing account in Google Tag Manager.
1. How Do You Get Access to a Google Tag Manager Account that Was Handled by a Previous Developer?
In cases when you're working with a client or not, you or the client might have trouble accessing a GTM account that was most likely worked on by a previous developer. You might end up wondering — is there any way to get access to the account from your end, or do you have to contact the previous developer instead and somehow transfer account permissions instead?
GTM varies a little when it comes to account ownership than other services. For example, Google My Business and other marketing tools let you prove your ownership and gain complete access to the account using only their domain email address. However, with GTM, the process is slightly less convenient. If you want access to the account, you'll have to have two pieces of information at hand. The first is the Google account you used to create the GTM container, in which an email address would work. The second component is the password itself or the ability to reset it.
Unfortunately, free GTM accounts don't come equipped with any SLA or Support. Instead, more capabilities are available for those who pay for the GTM 360 account. These paid accounts come not only with additional features, but Customer Support as well, which can directly help you manually set up a new admin.
In general, the easiest method would be to start anew with a new container. However, in this case, the best scenario is to try to access the account with the actual domain. Once you're in, you have a method of resetting it.
If all else fails, you can log in to your Google account, contact Google, and claim access to your desired GTM account since it hasn't been deleted. Google might just be able to verify that you are the legitimate owner and reopen your account to you if luck is on your side.
2. What Do I Do if I Lost Access to a Google Tag Manager Account because Of An Employee Change?
Perhaps your digital agency or SEO Company has had a turnover of employees or some recent adjustments. In such situations, you might wake up one day just to find out that your GTM account login details have been entirely wiped away from the web properties your account was installed on. That could immediately give rise to panic. However, you still have access to Google Analytics and perhaps a few documents that prove ownership of your website or business. Could there possibly be a solution?
This may be a tough situation. Unfortunately, without even having your login details, you might run out of any chances to reclaim or regain ownership of your GTM account as easily as you would with other Google Marketing platform services. Your first step is to try to exhaust all your login possibilities. Try to see if you have 'Edit Permission' for any of the previous emails you might have received from the GTM container installed on your website.
In the worst-case scenario, you might just have to create a new container or a GTM account and import your existing container setup into your new one. Your captured data is reported and saved on all the platforms, so unless you have gotten rid of your old GTM container without replacing it, you can duplicate the tracking structure into the new one and obtain a more robust admin user process in the meanwhile.
For more information on the best practices when it comes to administrators and user management, take a look here. In general, Google recommends that every GTM account should have multiple admins and actual user accounts rather than just shared logins. Additionally, linking your Tag Manager account to your organization can provide you with more insight into user management capabilities. Keep in mind that in case an account or container is deleted and no admins remain, GTM now has a trash can feature whose sole purpose is to give you permission to export your deleted containers and import them into a new account. Unfortunately, there is no way to restore a deleted GTM account if it truly has been deleted.
In the end, it's always best to keep documents of site or agency ownership on hand and set up your administration system and credentials so that you're not always liable to someone else should something go wrong. If you upgrade your GTM account to a 360, you have an extra layer of customer support for your worst-case scenario. As long as you use your Google Tag Manager account with backup, your SEO or digital marketing agency can always thrive without needing to worry.