Are You Leveraging Effectively these 7 New Features of Google My Business in 2021 for Your Local Business?
The global pandemic has been difficult for most of us. Many businesses have also suffered in this catastrophic phase. To lift off the load a little, Google has introduced many cool features to Google My Business (GMB).
If you're running a local business in 2021, it's essential that you understand these features. The sooner you apply these GMB actions to your business, the better.
Let's find out more about GMB and how its latest attributes can prove to be effective for your local business.
1.   Online Services
The global pandemic has pushed us into this "New Normal" thing. One of the most critical aspects of this "New Normal" lifestyle is going virtual. Most of us are working in a virtual workplace and staying in touch with the entire world. That's the very reason why Zoom, Slack, and many similar apps have become popular names.
Google has definitely figured out an opportunity gap in this aspect and has improved its list of online offerings. Here are some of the latest features added on GMB that can easily help with the "going virtual" thing. Have a look:
Online Appointment
Online Classes
Online Estimates
Online Care
Now, it's up to you. Make sure that you utilize each of these new attributes to reach out to larger groups of audiences, virtually.
2.  Community Feed
The "Community Feed" feature has been added to the Google Maps app. With this feature, you can get all the latest updates from the local businesses you follow. These updates include the latest posts, news, reviews from Google Local Guides, and so on.
Google has revealed that the community feed is currently inclined towards the food and drink businesses like restaurants, cafes, pubs, dessert parlors, etc. However, pretty soon, this feature will be added to community centers, venues, and beyond.
If you run a local business, this feature literally has a lot to offer. For starters, it gives you visibility on Google Maps. This means many of your target audiences residing locally can know about your business from their Google Maps feed. This can mean the opening of a new door of opportunities.
3.  Health & Safety
The global pandemic has left us in a vulnerable phase. It seems almost impossible now to make any decision without considering the health and safety aspects. With this in mind, GMB has come with this new attribute in late 2020. The "Health & Safety" feature ensures that searchers can make their decisions to associate with any business in an informed manner.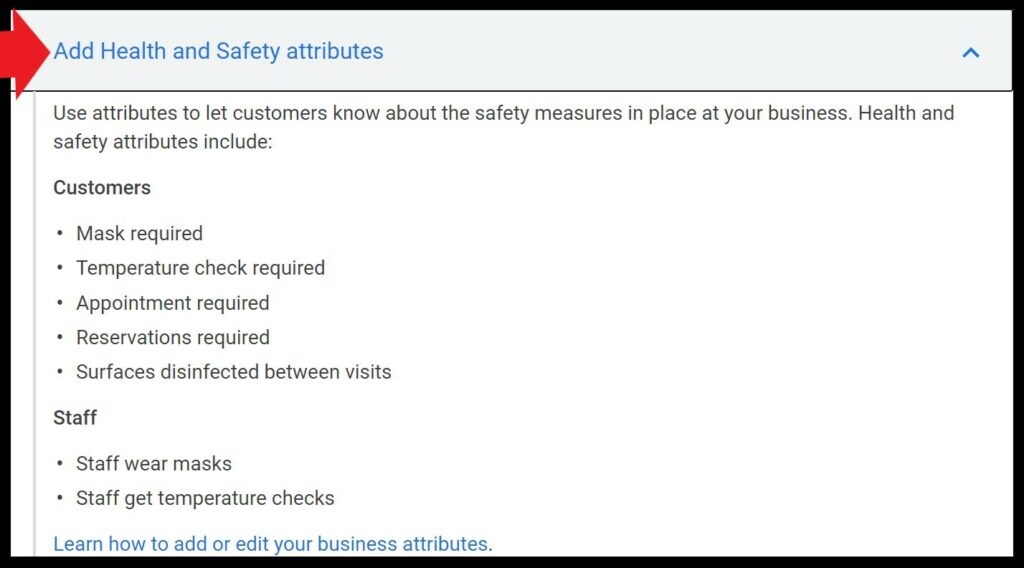 Source: Search Engine Journal
The attributes related to the Health & Safety feature are as follows:
All staffs wear masks
The staffs are getting their temperature checked
Mask/temperature check required
Listing these health & safety aspects on your GMB can actually prove to be effective for you. If you follow all guidelines that can keep your business safe from Covid-19 and you list them on your GMB, you can easily win your customers' attention. In the time when the customers are already worried about their health and safety, they'll always choose to interact with a business that is following the Covid-19 guidelines over a business that is not. Remember that.
4.  Expanded Messaging
Google has expanded it is messaging and we think it's a must for the local businesses to make this feature a part of their strategy. Even a few days ago, messaging was only restricted to the GMB app. However, Google has monitored during this pandemic that majorities of the customers reach out to businesses via messaging, before visiting the stores physically.
This trend has led GMB to opt for the expanded messaging attribute. Now you can respond to customers' messages through Google Maps. This can be a great way to improve your customer interactions. With this newly added feature, local businesses can add more value to their visibilities.
Now that we are discussing Google Messaging, we should also mention that Google has recently added the GMB Messaging attribute to its desktop UI as well. Earlier the messaging feature was available on smartphones only.
However, you might have to opt for this service. It's pretty easy. Just go to "Messages", click on "Settings" and turn on the desktop messaging attribute. Also, you need to respond to the customers' messages within 24-hours or else Google may revoke your rights.
Google is highly focused on improving customer experience and this is just a way of encouraging local businesses to focus on customer communication. But don't worry, Google will not cancel your rights to messaging permanently. You'll need to follow similar steps to re-enable this feature. That's it.
Google also provides the rights to block any offensive messages. Google usually takes actions against spam messages as well. So, all in all, the GMB messaging feature is a must-try for all local identities.
5.  The Call Logging Feature
Google is all set to add another feature to GMB called the call logging feature. This attribute is still in the test stage but it's totally worth giving a shot. Once this feature goes live, local businesses will be able to see the latest customer calls that your business has received through search.
This feature works like this. Say, a customer or prospect clicks on the "call" button on your GMB profile. Google will straightaway log that call, while it is missed or answered. When you open your GMB profile, you can find the call history in the "Calls" tab. The call logging feature will be available in the mobile version only.
This new feature can prove to be very crucial for the local businesses. It will help you keep track of all the interactions with your customers in one place. This could also become an effective customer-interaction tool.
6.  Greater Focus over GMB Insights Data
Google has also made some new additions to the performance reports of GMB. With GMB's advanced analytics features, you can access the following information:
You'll get an elaborate idea of how many prospects/customers have reached out to you after looking at your GMB profile
GMB is also offering some great insights on the number of searches to the local businesses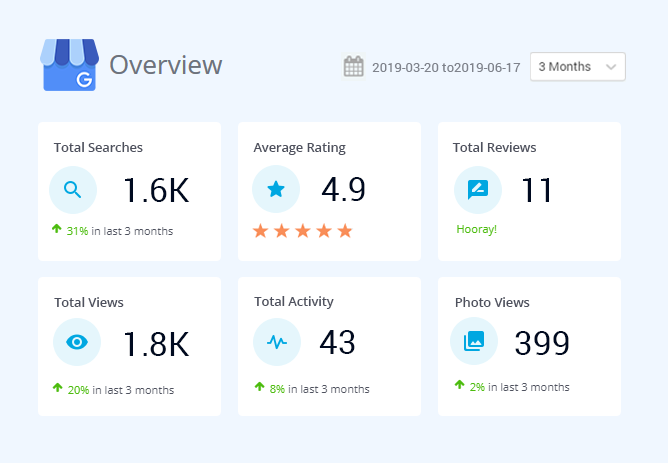 Source: SocialPilot
You can now check the number of times your GMB profile appeared in the search results. This includes the data from Google Maps as well.
These advanced analytics and reports can be helpful for local businesses in numerous ways. These analytics can be available for up to 6 months. Needless to say, local businesses can use these analytics to build-up their long-term business strategies.
7.  Small Business Advisor Program
In November 2020, Google had launched a Small Business Advisor program in the U.S. So, the program was like this. A small business owner had to pay $39.99 per session to discuss any 2 Google tools per session. Some of the official advisors would help these business owners to make optimum utilization of Google's tools.
This program can be a fit for the business owners:
Who are still not confident of their online presence
Who have some serious questions regarding the products
Who cannot afford to work with marketing agencies at the moment
Who are completely new to GMB or any other tools from Google
In these difficult times when small businesses are struggling to exist, such an initiative by Google is remarkable. We think it could help business owners who are new and still figuring out how to use GMB.
Conclusion
Before wrapping up, we just want to suggest one thing to the local businesses. Please don't ignore GMB, if you're focused on long-term growth. In fact, GMB is as important as a website, when it comes to the online presence of a local business.
Make sure that you use all these new additions of GMB to optimize your profile.
Any questions? Shoot. We're here to answer all your queries.