SEO for SaaS-based Companies in 2021
If you have a company that operates in the software as a service (SaaS) industry, your business thrives on digital marketing to acquire new customers. To maintain strong competition, you need constant efforts online to keep your current customers. That will prevent your competitors from snatching them away.
Plus, acquiring leads increases the customer base, which is vital for any SaaS company, including yours. Most of your business success depends on getting potential customers and reemphasizing your unique services to them.
However, SEO for SaaS companies is unique compared to other businesses, as you may know. Surprisingly, the sales cycle is fast, with an average of 40 days priced under $5,000 for SaaS products. That means you don't have enough time to nurture your potential customers.
The biggest problem in SaaS marketing is arguably SaaS lead generation. And that's why SEO for SaaS companies is still one of the highly effective ways to get more customers.
This guide will help you know how to generate more customers using SEO.
Let's dive right in!
How to Properly Do SEO for SaaS in 2021
To have a successful SEO for SaaS, you have to understand the SEO ranking signals. That way, you can adjust your Search Engine Optimization (SEO) strategies accordingly. Google's search algorithm has continuously evolved over the years, including the ranking factors.
However, you have to understand that the primary intention of Google (including other search engines) is to offer better results for their audience. And as you might have guessed, your potential customers are part of their audience.
Ultimately, SEO's main objective is to optimize your SaaS website for a human audience, not search engine bots.
That said, here are five crucial ranking factors you should consider.
1.   Technical Factors
SEO has three technical factors that are highly important:
Secured and reliable website (and that includes the utilization of HTTPS)
Mobile responsiveness
Fast website load speed
These are right down basic but highly relevant. If Google realizes that your website is not secured, it won't rank your website. If your site is slow, it will increase your bounce rate, negatively affecting your business.
2.   Content Optimization
High-quality content is significant in SEO for SaaS. If you want to increase your customer base, you have to develop highly relevant, valuable content for your audience, not Google bots. And you have to do so regularly.
However, merely publishing high-quality content will not get you there. That's because there are more than four million blog posts published every day! So if you want to stand out, you have to include other strategies. (we'll get to that shortly).
Even though you should develop content for your audience, you should also optimize your content for Google's algorithm. Remember, not keyword stuffing (you can get penalized), but keyword optimization.
If you use your keywords naturally and implement semantically-related keywords, you'll be fine. Also, you can consider your user's search intent. Different keywords have different intents. Check out the infographic below.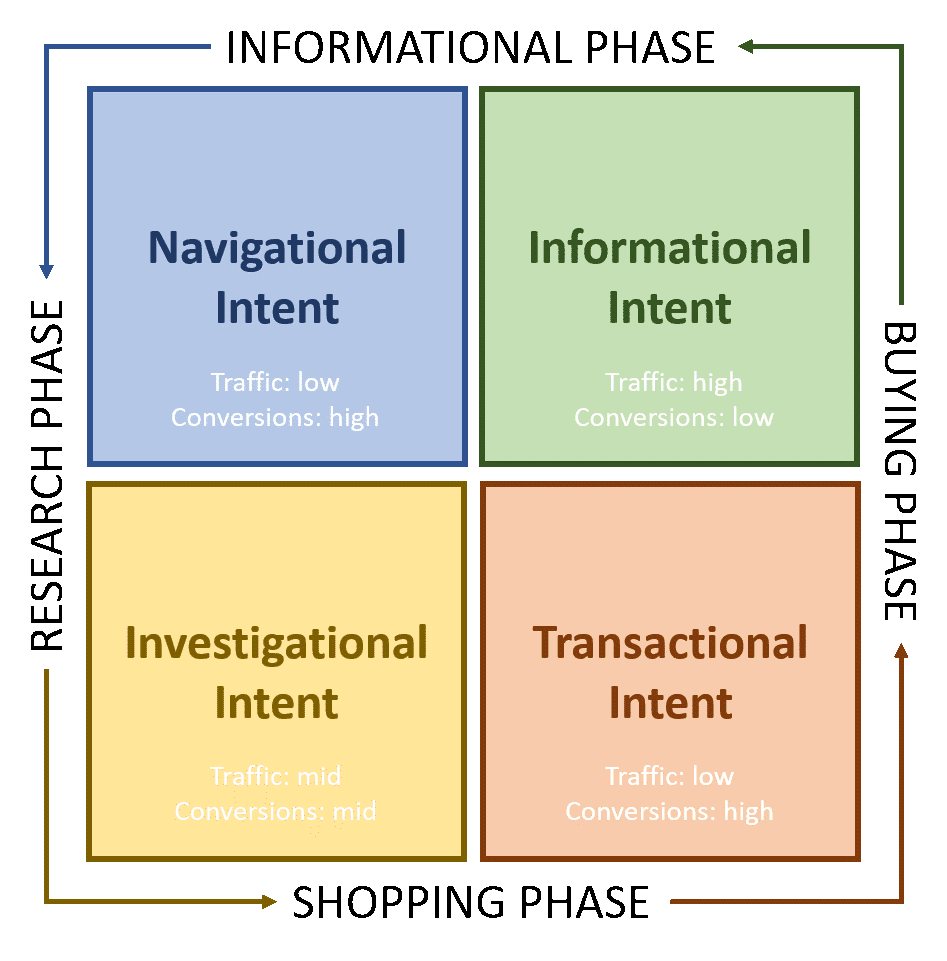 Source: Karcher Group
Navigational Intent: the user is searching for a particular website usually linked to brand keywords
Informational Intent: the user wants an answer to a specific question
Investigational Intent: the user is comparing numerous products or looking for a product
Transactional Intent: the user wants to purchase a specific product.
You have to create content for each search intent. The main objective is to develop better information for your audience. This is what we recommend: make your content relevant and valuable and let your keywords flow naturally.
3.   User Experience
You can't tackle SEO without the user experience, especially not with the introduction of Google's RankBrain. The RankBrain is an algorithm that can determine whether a search result is essential to a user. For example, when a top-ranking page has little click-through rate (CTR), Google will deem it unimportant. And that will get the page demoted.
When optimizing SEO for your SaaS site, you have to focus on three primary user experience metrics:
Click-through rate: how many people clicked on your link when it showed in search results
Bounce rate: refers to the number of people who visited your site and left after a few seconds. When that happens, Google will perceive the website as irrelevant.
Dwell time: It shows how long people stay on your website after visiting it. This usually links to the quality and relevancy of your content.
4.   Link Profile
Yes. Backlinks are as important as it was many years ago. However, certain things have changed. When a website links to your SaaS site, Google perceives your website as highly relevant.
However, many years ago, it was more quantity: the more links you had, the better. Nowadays, it's more quality. Google checks the websites linking to your site, whether relevant and related to your keywords and niche.
5.   Social Signals
Google has stated that social shares are not considered inbound links, so they're not directly a ranking signal. However, as more people share your website, you get a higher chance of acquiring these links.
Top-ranking pages on Googly usually have thousands of social shares. So getting social shares can have a positive impact on your ranking.
Where Does My SaaS Business Go from Here?
SEO for SaaS companies is highly essential for branding and visibility on search engines. With a SaaS specialist agency such as Digital Success Agency, you can boost your website traffic and increase your customer base.
Whether your SaaS company is related to E-discovery, Medical Diagnosis /EEG, or HR analytics, we can help you grow your customer base through effective SEO strategies.
On average, you can expect to see effective results after 4-12 months. This may seem like a long time before the results kick in. However, the benefits are for years to come. As you wait for your landing pages to rise, you can take the time to promote your efforts on all digital marketing channels, such as social media.
With the help of SEO SaaS agencies, you can effectively carry out these tasks and help your business succeed.