I wouldn't be off the mark to say that business strategy and digital marketing are intertwined. While digital marketing is an integral part of the overall marketing strategy, it must be considered as the major part of the strategy. Every business, irrespective of their size, is trying to achieve a precision that is related to customer expectations. Old trends need to find a way out of the window, and new ways that must accommodate Artificial Intelligence (AI), Chatbots and influencers must play a critical role in the digital marketing strategy.
If you need some solid advice on how to make your digital marketing strategy work (in case you've failed so far), you can read our blog that provided pointers to revive your digital marketing strategy.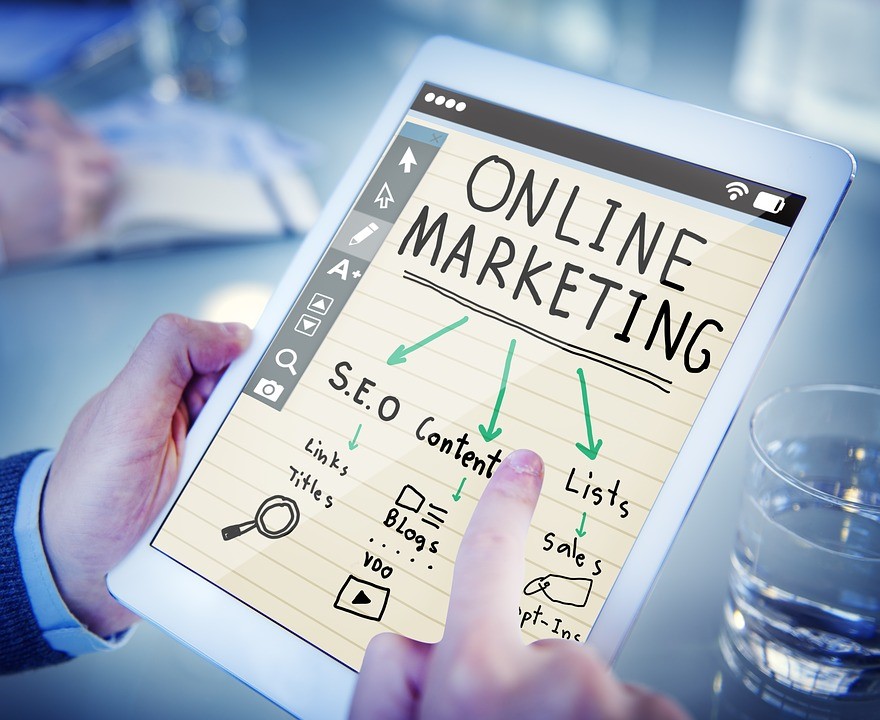 Image Source: https://cdn.pixabay.com/photo/2016/03/09/13/58/online-marketing-1246457_960_720.jpg
Unfortunately, digital marketing has been shrouded with several misconceptions and myths that hamper businesses to leverage from it. Through the points given below, I'll to debunk some of these myths so that as a business owner or decision maker, you can generate leads and drive sales from digital marketing.
1. Digital Marketing is meant for big brand names
Digital marketing is meant for all sizes of businesses since the basic need of all businesses is to connect with customers and engage with them. Most of the businesses are moving beyond physical stores and trying to promote online businesses. The biggest advantage of digital marketing is that you can use analytics and data insights to drive your actions and target specific customers who are most likely to convert.
2. Digital marketing is not an important aspect of the business strategy
If your online consumers are growing, you must be prepared to widen your interaction window with your company's website. There are an increasing number of people who search for your business online. Online presence and social media engagement can decide the success or failure of the business, and therefore digital marketing in an integral part of the business strategy.
3. Contemporary website is enough
Web dynamics are changing each day. Online trends are evolving so quickly that if your marketing team or website is not updated with the latest trends, your website alone cannot drive traffic. If your website is not updated regularly and does not follow the latest trends, you will fail to attract website visitors and bring any positive results.
4. Digital marketing efforts will only yield results if your website has high traffic
One of the most important parameters for digital marketing is the quality of traffic and not the quantity. The purpose of the digital marketing is to attract users who are searching for products and services that you offer and being able to convert them. Getting a high volume of visitors who can never convert will not make any difference.
5. Any content is good for my website
High quality, relevant and updated content is the premise of a good digital marketing strategy. It must primarily cater to the requirements of your audience. Even search engines rank websites with pertinent content higher in search ranking compared to the ones that have obsolete and unrelated content.
6. SEO is dead
Most of the people search for content online on search engines. They are increasingly searching for content on different devices. SEO is not dead, it is getting diversified. Digital marketing plays an important role in getting you the desired rankings. But it must be a solid digital marketing strategy from a reliable and trustworthy digital marketing agency.
7. Social media is not meant for us
Social media enables you to communicate and reach your customers. It's a strong voice that users relate to. It is a way to validate your brand, irrespective of the size. With a solid social media marketing strategy, you can build a customer loyalty.
8. My competitors are not investing in digital marketing, so why should we?
Businesses that are not going digital will miss out on many potential consumers. Consumers are changing, and they will stop patronizing with the traditional marketing channels.
9. You must constantly redesign your website
To have successful digital marketing results, you must update your content regularly and ensure that you have an easy to navigate, intuitive, responsive and user-friendly web design (that should be a one-time effort). Updating design is not part of the scheme.
10. Mobile is not important and there are no conversions
There are many businesses that believe that people do not like lengthy checkout processes on their mobile, therefore conversions on mobile do not happen. Mobile e-commerce needs to be made simpler. Features like cross-device shopping cart integration, SEM mobile ads, and simple B2B forms must be the focus if businesses must achieve mobile conversions.
With the pointers above, I hope I've been able to address some of your challenges. If you think you still have doubts, questions, concerns about digital marketing or are wondering how to get started, we have all the answers you need.