What Do Top Marketers Know and Say About Elon Musk's Digital Marketing Strategies?
Elon Musk, the man behind PayPal, the Space X program, and Tesla, is one of the most recognized entrepreneurs in the world. He is in the league of Steve Jobs, Warren Buffet, Bill Gates, Mark Zuckerberg, and the rest of the evolutionary founders of today's technology.
Today, Elon Musk is worth $205 billion. He has created a new world of marketing approaches, which every digital marketing agency tries to integrate into its operational strategies.
Neil Patel, a New York Times bestselling author and online marketing influencer, says Musk carved his name in the marketing industry by pulling off unconventional tactics. For example, he launched the Tesla Cybertruck with a controversial marketing move.
During the vehicle's launch, he had one of his team members throw a steel ball on the truck's armored windows. The company promoted the car as indestructible, but it broke down twice when the steel ball was thrown at it in quick succession.
Moreover, the marketing stunt created a buzz that keywords like "cybertruck window" became extremely popular online. Before its release, pre-orders skyrocketed to 146,000, or $8 billion.
Changing the Face of Modern Marketing
There is much to learn from the successes of modern-day billionaires. In most cases, it stems from thinking out of the box. Elon Musk is one of the visionary leaders paving the way with unconventional marketing approaches.
The Arizona State University says the unconventional billionaire "acts like an inventor and thinks like an investor." He avoids the crown by veering away from traditional marketing. The university further describes Elon Musk as "way too smart and way too cheap to spend money on traditional marketing."
Musk developed the mindset of resisting old marketing antics by eliminating ad campaign expenses and dealership networks. Instead, he developed a way of compelling his customers to do the ad campaigns for him.
Musk's role is to build his network by opening stores, introducing his products, and allowing his customers to spread them. It is done through posts and customer reviews using social media. A simple fact is that Elon Musk did not spend anything on his marketing for the Tesla car. Yet, the vehicle remains one of his most successful ventures to date.
Elon Musk's marketing approach signals throughout the e-commerce world that spending less on your campaigns and focusing on brand quality is possible. Moreover, it is why every SEO agency clamors to integrate the approach to their business procedures.
What is the Marketing Strategy of Elon Musk?
Just recently, Musk made another wave on social media by announcing the launch of Neuralink. The neural interface tech startup develops microchips embedded in the brain to record activities and stimulate brain responses.
Professor Andrew Jackson, a neural interface expert from Newcastle University in the UK, thinks that Musk's new venture can be "a solid engineering but mediocre neuroscience." But despite negative feedback, Musk's new science venture has been picking up with planned human testing and Food and Drug Administration approval on pending status.
Elon Musk taps into markets that are not mainstream. He finds a way to market his projects by engaging the public through social media, which proves the power of Elon Musk's marketing strategy.
He multiplies his business by creating a radical shift in how social media is used. While many CEOs and business owners are hesitant to show their personalities on social media, Elon Musk is the opposite.
How Does Elon Musk Advertise?
There is a common thread between businesses that thrive in the modern world and Elon Musk's marketing strategy – the use of social media. Reliability speaks volumes in the online world, and Elon Musk has found a way to pique people's interests.
According to reports, one of the significant shareholders of Tesla wants him to spend at least $50 per vehicle on ad campaigns. As quoted on Bloomberg, the investor says advertising can positively impact the increase of brand value and product awareness.
Although the shareholder's proposition may affect branding in the traditional marketing world, Elon Musk eschews such convention. Instead, he favors his social media accounts and other non-conventional marketing methods. Musk's approach is to funnel business cash flow to more important aspects like product improvement and portfolio growth.
Most traditional marketers view Elon Musk's radical approach to marketing as a madman's approach. Global research platform, Piplsay even says that he is "70% genius/madman/visionary, and 35% jerk and arrogant."
How Do I Market Like Elon Musk?
There is much to learn about how Elon Musk approaches his marketing campaigns. One of the first things you need to do is build and expand your community of followers. Only then can you apply the marketing techniques used by the revolutionary billionaire.
Think outside the box
Marketing in today's business world is not as tight-fit as it once used to be. For example, before the advent of the internet, all brands had to do was purchase airtime from television and radio networks. With the internet at everyone's disposal, getting on top of the search engine results page is the only way to make a voice.
Elon Musk makes a difference by utilizing his social media account. He has 93 million followers on Twitter, which feeds the internet with his constant status update. Musk tweets about every imaginable topic, including memes, business updates, news, and music appreciation.
1. Give your customers an accurate view of your business
Relatability plays an essential role in today's business setting. If your customers cannot get a feel of your business, they will not find the time to check on what you are offering. It also reflects on your website's optimization campaigns. An excellent digital marketing agency understands how every online business gets to the top of the SERP.
Additionally, these agencies incorporate the methodologies used by leading innovators and top business honchos like Elon Musk. His approach to Tesla marketing makes the brand authentic and relatable. For example, he shared the master plan with the public, initially dubbing it "idiocy squared." To reach your target audience, you must create authentic content that feels credible and authoritative content.
2. Turn bad publicities into something beneficial
Of course, every celebrity knows that there is no such thing as bad publicity. And this is what Elon Musk tries to incorporate into his business marketing campaigns. He avoids disaster by countering the effects of bad publicity and putting his customers first.
For example, when delays for the Tesla Model 3 happened, he appeased his customers by giving them the option to have the Roadster model. Turning lousy publicity into a good one is one marketing strategy you can employ with your business. You need to look at the good side and put your customers first.
3. Create a healthy environment where everyone thrives
One good thing Elon Musk did with his Tesla brand was to make an open-sourced patent for everyone to access. Musk is known to create a healthy competition leading to more significant achievements among each party.
Musk also demonstrates exemplary goodwill by expressing gratitude to everyone, whether it's a customer or a competitor. These small actions are what people notice and appreciate. Maulik Parekh, the SPI CRM President and CEO, says every company's assets "are the people."
He also adds that if you take care of everyone around you, they will also take care of your business. Thus, "What we do for our people is what we do for your customers. The wins for our employees create wins for your customers," he said.
It is the same principle in how Elon Musk works. He builds relationships by stepping away from his office table and involving himself in the community. Such motivation led to the SpaceX program, which aims to reduce transportation costs for human-crewed space missions.
Marketing like Elon Musk means spending time and thinking about problems that need solutions. From an SEO point of view, knowing your demographics and creating the right solution through targeted marketing means a lot.
You need to think about the problem, focus on your customers, and create a significant experience that turns customers into valuable marketing partners. It is an approach with an irreversible effect that will take your business far.
Elon Musk's marketing strategy goes beyond the traditional approaches. However, it touches on the most fundamental aspect of human connection. This principle also applies to SEO campaigns, as you need to focus on what's essential for your business.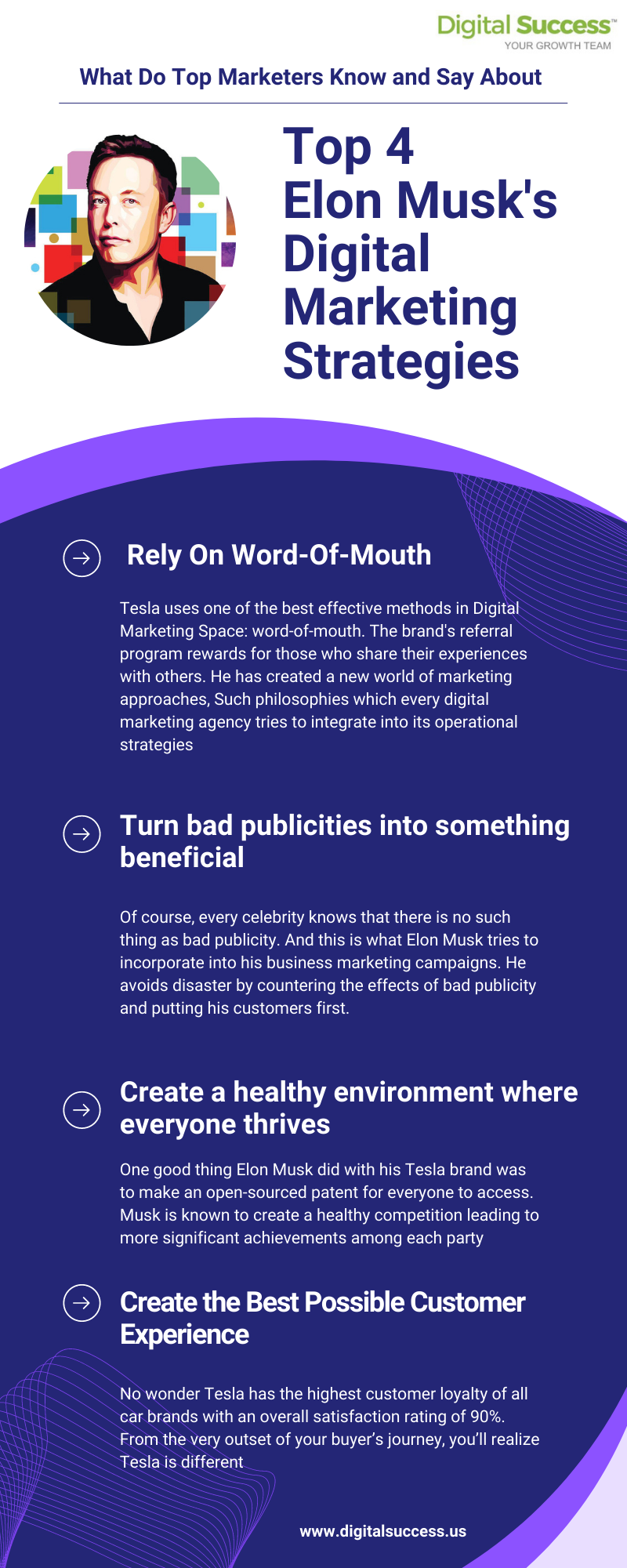 When done correctly, SEO can have a pivotal effect on your business, even if you have a limited budget. Additionally, creating leverage means touching people so they can relate to what your company is offering.
SEO is a multifaceted tool in today's business environment. It allows every business to connect with its customers and creates a healthy competition environment. Additionally, SEO lets businesses think outside the box when creating marketing campaigns.
Top markets know what powers every business is innovation and human connections. Incorporating the techniques used by business people like Elon Musk means adapting to the changing marketing environment. These techniques help to foster success and gain rapid significance in the online world. Knowing how to turn bad reviews and publicities into promising opportunities is also vital for businesses to be successful.