7 Content Mistakes that are Hurting Your SEO
"Content is the reason search began in the first place." — Lee Odden
We all are aware that one of the primary reasons why organizations invest in SEO is so that they can get a considerable digital footfall on their website and in turn increase their chances of earning better profits.
But, is it always enough just to have a strong SEO foundation? With brands focusing so much on SEO principles they often forget that it is incomplete without the backing of strong content that catches the attention of the masses.
Hence, it is absolutely necessary to focus on how good your content is. After all, it is a commonly known fact, that irrespective of the evolution in communication channels, content is still the undefeated king.
If you as a brand are doing everything right when it comes to SEO strategizing, but are committing grave mistakes with the quality and kind of content you are putting out there, then it is time to check your mistakes!
Most Common Content Mistakes you are making in your SEO
Using generated duplicate content:  Did you know that according to a survey conducted in 2021, almost 29% of the web is actually filled with content that is duplicate? There is nothing that annoys Google anything more than using content that is plagiarized or auto generated using the free tools that are available. The big issue with using content that is autogenerated is that it is rephrased content that is mostly picked up from previously written content and is stuffed with keywords. Most of the time writers feel that they can get away if they translate content that is originally posted in another language using the available translation tools and post it online. Doing this will hamper the quality of your content irrespective of the keywords that you use.
Manipulation with links: Google which is the most used search engine, operates on guidelines based on which content is ranked on the search engine.  There are times when creators create links in their content just with the aim of manipulating their rank on search engines.
Links that are created naturally are accepted by Google but those links that are created unethically and are not approved by the website's owner are ditched instantly. The only workaround is to create content that is authentic and of good quality so that the users want to read it and give more popularity to it.

Image source: MOZ
Working on cloaked content: There are times when content creators create two separate URL links, one solely for the readers and one for the search engines. Doing this is a very big no because it is completely against the guidelines of Google Webmaster. If you are working on content that is cloaked in this manner, it is basically misleading the public.
Make sure when you are working on content, you create just one authentic URL that is visible to both your readers and to the search engine as well. Trust us, Google also appreciates it when you deliver content that is created keeping the readers in mind.
Including unnecessary redirects: Websites get redirected or are 301d which means that the moment someone comes to your link they will be redirected elsewhere. You remember that time you clicked on a link expecting to read something and are immediately redirected to another portal where you come across something that you were not expecting at all?
There is no denying that when this happens it looks like mere deception and spoils the entire experience of the user. It is likely that under certain situations, Google allows you to redirect the users to another link, but that is valid only if it as per the Google Webmaster's guidelines.
Providing redirection when it is not needed is the worst thing that you can do, and this is something that will impact the ranking and performance of your website deeply.
Creating Content pages that are dubious: One strategy that a lot of content creators follow is when they create content that actually behaves a different way and gives something entirely different, than what the reader was expecting.
If your content page comes with hidden malicious software that automatically starts downloading spam the moment a reader clicks on the link, then you are violating the guidelines of Google Webmaster for sure. It is an absolute must that you stay away from installing Trojan links to your content that give rise to unnecessary file downloads.
This is possibly the worst user experience that a reader can have when accessing the internet.
Utilizing irrelevant keywords: It is a natural tendency to create content that is stuffed with keywords, even those that are completely unrelated to the content that you are writing.
We have seen situations where the topics are decided based on the keywords that need to be used and this is so wrong, because the entire content ends up being content that is meant just for the search engines.
It is understood that in order to optimize your content it is necessary to include keywords but it should be done aesthetically and the keywords that you use should be relevant to the topic that you are writing on.  In order to make it easy for you to find the right keyword based on your product and niche you can use different software like Ahrefs, Webmaster tool, WordStream and even tools like keyword shitter.

Copied/plagiarized content:  If you think you can get away with using chunks of content from other sources and posting it on your website as yours, then this is something that is completely against the rules of Google.
Using scraps of content that has been published elsewhere can create major infringement and copyright issues for you. This in turn will hamper the SEO rank of your website.
To do away with the possibility of posting plagiarized content, there are a number of tools like SmallSEOtools, Grammarly and Duplichecker that can be used.
This is exactly how plagiarism check tools work: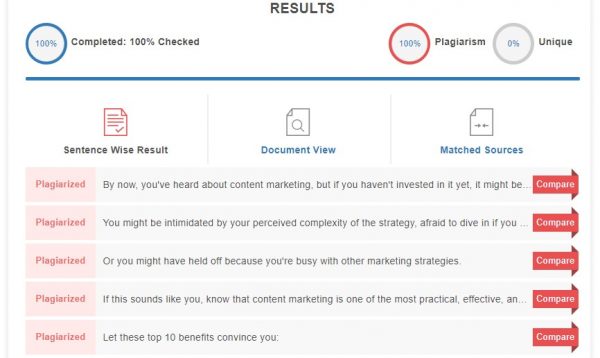 When users come online to browse content, they come with the intention of learning something important or making a needed purchase. Content that is posted online is posted so that the users can go through it and eventually come to your brand.
As important as it is to focus on the SEO parameters, it is equally important to make sure that the content that you are creating is authentic and impactful. It takes a lot of effort to churn content and if we create unnecessary backlinks or include spam links in it, the entire worthiness of the content immediately gets negated.
When working on content make sure that you steer clear of these seven mistakes to avoid losing your SEO rank and your readers.
---
Author Bio
Harsh Dutta
Founder at Content Writing Agency – Italics
Harsh is a seasoned entrepreneur, Digital Marketer, and Professional Copywriter.