Digital Marketing VS Traditional Marketing: Which is Better
The term "digital" was once used to designate a high-definition television transmission. Conventional advertisement depends on traditional media, and the sort of advertisement that we now refer to as "digital" seems to have no significance for advertisers.
Let's jump twenty years ahead. As per Internet Live Stats, a massive number of people all around the world use google everyday. Which makes any business's priority shift to maintaining good search ranking. Search engines heavily influence digital advertisement positioning, and the current business data on social media advertising demonstrate the effectiveness of digital advertising.
Despite its widespread adoption and expansion, many businesses still follow the old-school process of advertisements. People can't usually understand the concept of digitalization. They're still relying on old-school marketing tactics. Then again, many of us have grown up with and are familiar with traditional advertisements. It's functioned for you in the past, it's quantifiable, and it's comfortable. So today, through this article, you all will see which way of marketing is best.
Definition of Digital Marketing
Any sort of marketing a firm does online, including sponsored social media advertising, email campaigns, and PPC advertising is digital marketing. In other words, we can say that Digital marketing is nothing but simply the use of digital platforms for marketing engagement, such as web pages and social media platforms. Gathering from Emarsys report, which reveals that almost 3.2 billion people use social media platforms on a daily basis, one can easily explain the explosion of ads on these sites recently. In times like covid when companies battled to survive and remain relevant while being completely remote, it was digital marketing that helped them reach out their customers and maintain visibility.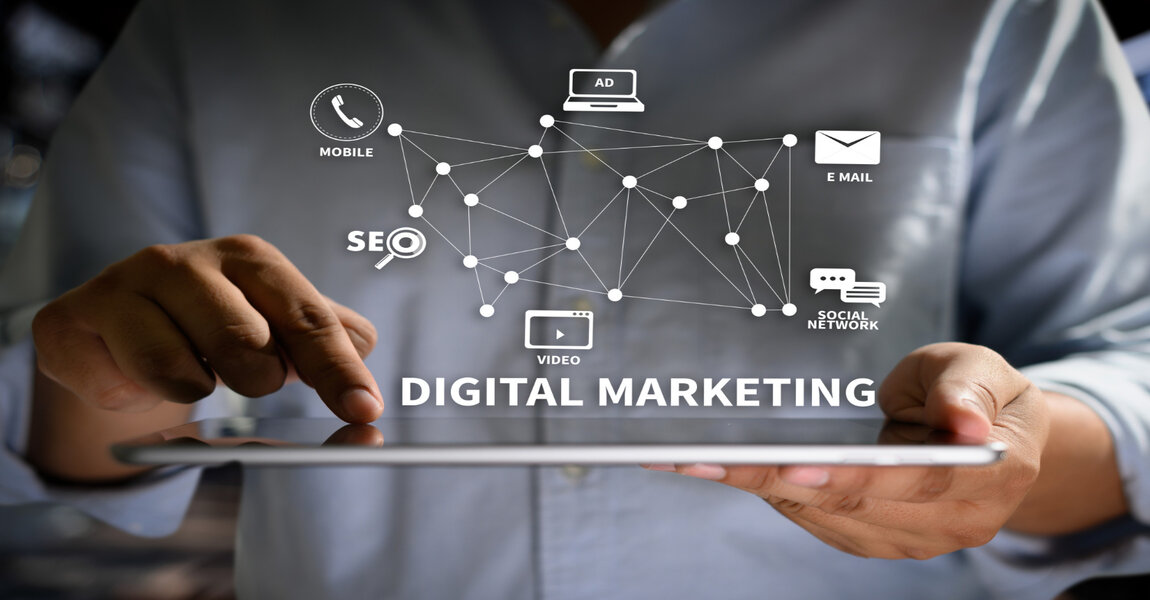 Advantages and Disadvantages of Digital Marketing
Let's first talk about some advantages of digital marketing.
●        It is simple to track the results of your efforts and gather insights of your marketing campaigns
●        More ways to engage the audience. For eg: surveys, contests, referral codes etc.
●        Collecting consumer's information gets easier by using various analytical tools
Now let's see the disadvantages of digital marketing.
●        It is constantly changing, from social media to search engine marketing, each medium generally requires its very own expert to get the most return for your investment.
●        Technology break can occur as Digital marketing is reliant on technology, which can malfunction at any time.
A lot of human interference is needed.
Some Digital Marketing platforms include
Definition of Traditional Marketing
Any type of advertising that's not done online is referred to as traditional marketing. This technique of advertising, which ranges from publications to radios, enables targeted consumers to be reached. Printing, radio, direct mail, telephones, even external advertising such as banners are examples of this. Traditional marketing is known as one of the oldest and most explored types of marketing. This approach is popular among advertisers since it is proven and reliable. Everyone comes into contact with traditional marketing in their everyday living, whether through mail or by a newspaper.
Advantages of Traditional Marketing
Some significant advantages of traditional marketing are-
●        More endurance as experiencing something in reality instead of on the smartphone increases the likelihood of remembering it.
●        Promotional printed items are easy to keep for example Leaflets, posters, pamphlets, and brochures are some examples of traditional advertising stuff that can be saved and repurposed.
●        Insightful and straightforward to comprehend as they are attractive, compelling and part of common occurrences of people's daily life.
Some of the disadvantages of traditional marketing
●        Frequently costly. Suppose you are just a new brand, you probably may not have the budget for a four-page ad in Magazine.
●        You can't change what is already done, like mistaking discounted products while recording a radio advert or printing the wrong price value on the flyers.
Some Traditional Marketing platforms include
Traditional Marketing Vs. Digital Marketing – What's the road ahead in post-pandemic world
Traditional marketing means have definitely worked wonders in the past and still stand solid for small businesses when trying to reach just the local people. With its convenience and credibility, businesses targeting the pre Gen Z population still find it more suitable. However, the pandemic has boosted digital marketing to an exponential extent and made it an integral part for all kinds of businesses. In fact, Bazaarvoice had reported that 49% of global consumers prefer shopping online after the pandemic hit the world and the US witnessed 62% more online customers during this period.
Digital marketing also allows you to connect to more people than you physically can in reality. Since the pandemic locked the world in four walls, smart phones and the internet have been keeping everyone sane, and you can just effortlessly reach out to those who are in need of your offerings. When compared to traditional advertising, running ads on social media is also cheaper. Additionally, tracking your brands reach and interaction with audience is easier than ever. If you are planning to invest in your online social media marketing campaigns this time is just perfect to begin with. According to VisaVisa, 25% of internet based shopping is done via various social media platforms.
Smaller businesses have an extra advantage when it comes to using digital marketing. They can compete effectively with global brands in their local markets using powerful demographic based marketing strategies and personalizing their approach. All in all, internet based marketing is more suitable in today's world and has enough advantages over traditional mode.
Conclusion
In the end, both methods of marketing offer advantages and disadvantages, but the thing is to know your individual marketing needs, financial constraints, and target demographic. With the help of this article, we want you to know that if you understand what your customers desire, both traditional and digital marketing agencies can work for you. But with the trends going on, the digital market is surely paving the way for better engagement and better revenue growth prospects.