How the Search is Changing During Coronavirus Pandemic: And How the Businesses Should Adapt to the Change
The currently happening situations of Coronavirus is no more unknown to any country and any humankind. The lifestyle of people is changing and so is the circumstances.
People are forced to stay inside and move to online space for their own good. There are businessmen who got affected and there are people who are still trying to figure out what they could do in these testing times.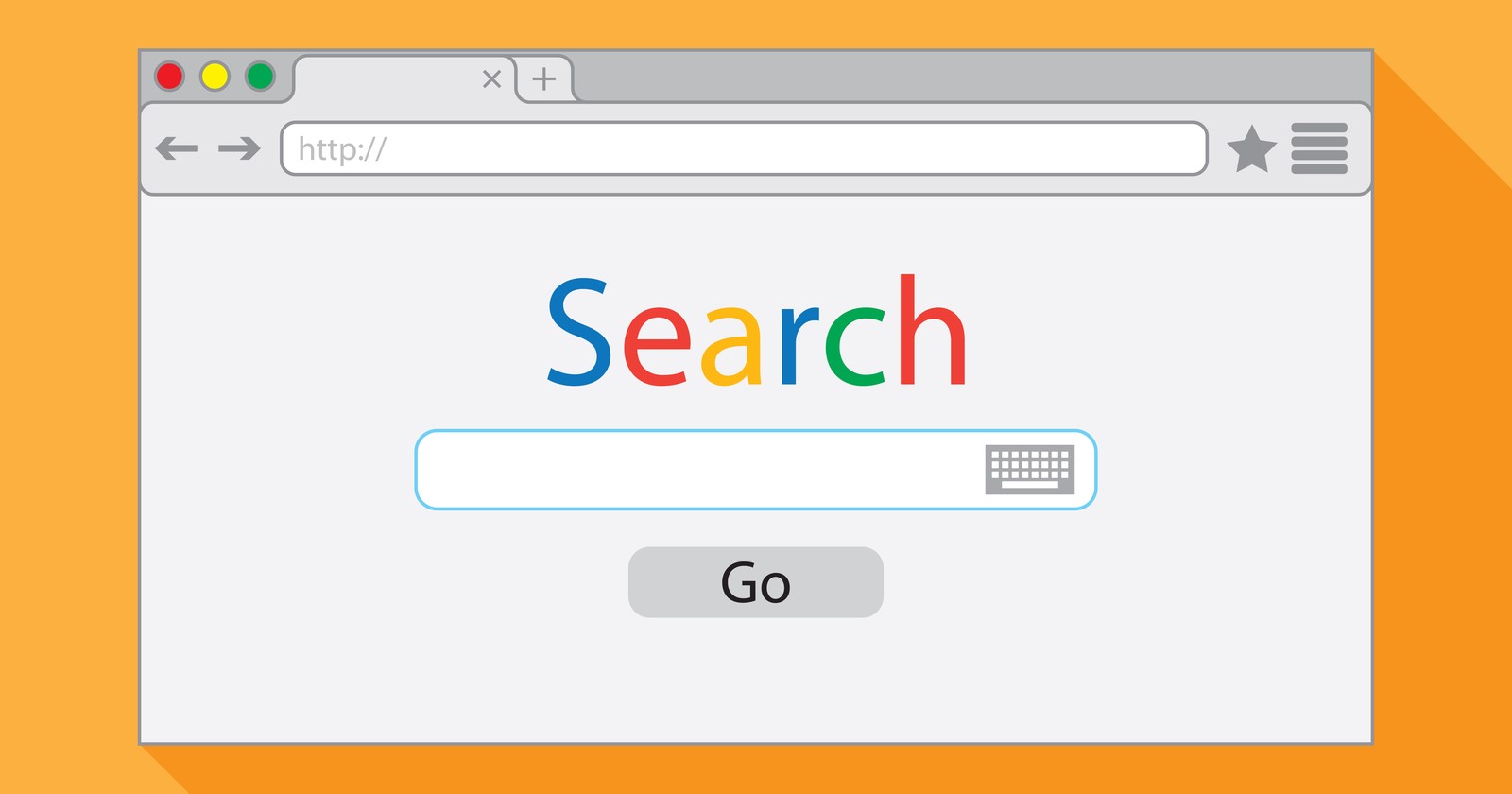 Why is digital marketing STILL important?
One thing that no one could ever deny is the fact that the online engagement of public has increased manifolds and that the business will have to be shifted online if you want to stand for yourselves amidst the crowd.
For people who are already in business knows how important digital marketing is for a company and during these times, it is of no doubt that digital marketing is going to boom into the professional space as it is the only and last way you can make use of to be back on your track.
This has to be evidently put out there, because, people will generally have to cut back their marketing budget, due to low inflow of cash. But, with already lesser leads, conversions, and clients, cutting back from the marketing is going to lessen the same again, adding to a cumulative effect.
And, digital marketing is the best way that you can see the effects of the steps that you take towards marketing, which again saves your money otherwise in getting the feedback.
But, the precautions and facts that you have to concentrate on digital marketing during the pandemic times are aplenty as the situations are something we've never had before.
Change in the search
One important thing among the same is the change in the search that people do these days. This will obviously occur due to changed lifestyle and all the searches are heavily dependent on the lifestyle of the people. With the change, the SEO companies too should make a move towards the same.
For eg:
People who used to search for "groceries near me" search for "grocery delivery near me".
The people who searched for "Baking a cake" search for "Baking bread".
"Best Gyms near me" have already been replaced by "Workout at home without any equipments"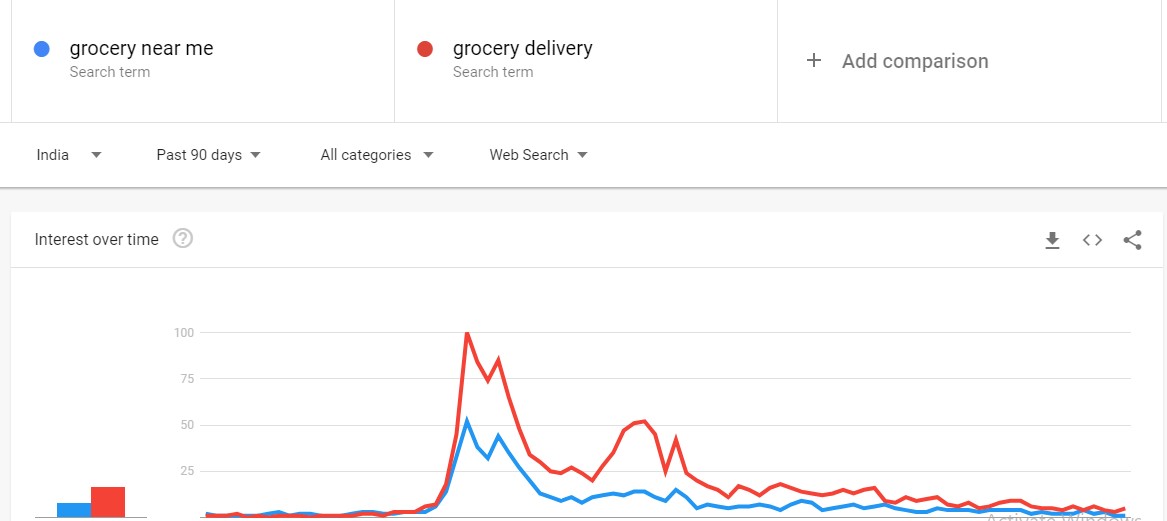 Likewise, the search is changing. Also, at times, the keywords do not change, but the intent is changing.
For eg: a person who searches for a concert, "ABC concert" earlier used to search it to book a ticket or to know the timings. Today the same keyword is searched to know about the ticket refund policy, or their rescheduled timing or the status quo of the event.
And the key idea that we conclude is, that the content creators must be aware of this change in the trends. Because there is no point in delivering content that the people do not want anymore or the content that is not intended for.
Google trends based on coronavirus as on 05-29-2020 is

The coronavirus is spreading and it is affecting every vertical of the search and here are few of the important things to be reminded of regarding the same.
1. Health and wellness
Health and wellness websites are having straight upsurge during these times. People definitely want to know about the virus and the preventive measures they want to take to avoid the chances of the same.

Keywords like "coronavirus symptoms", "preventive measures for corona" are all up on the trends now.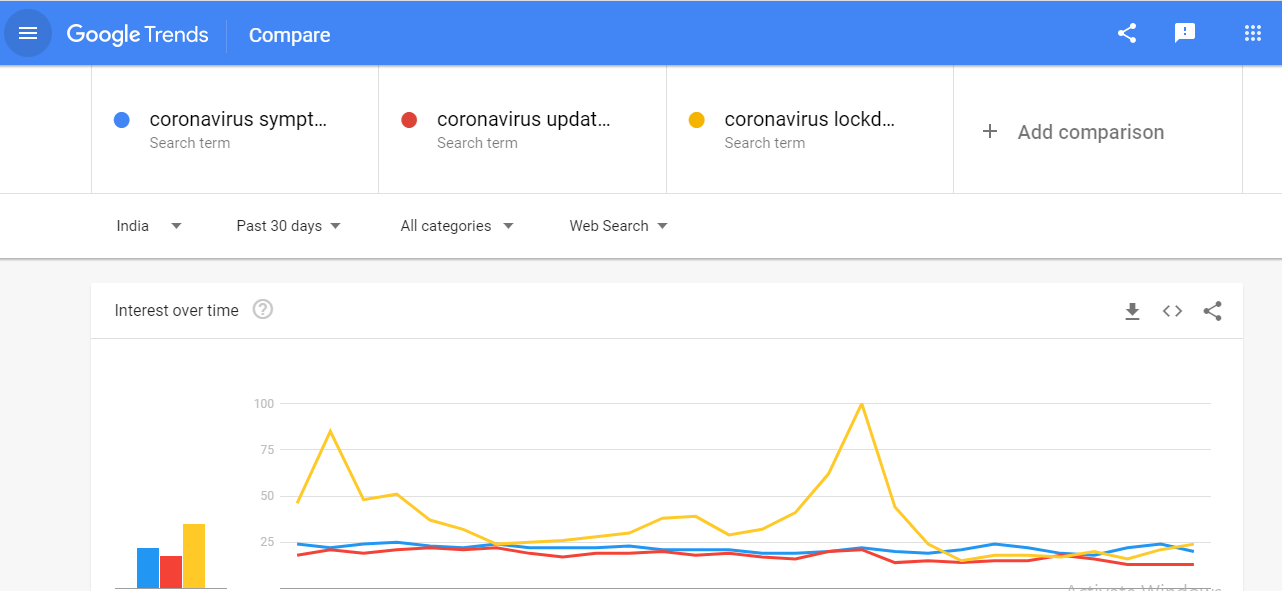 So, what you could do is include trustable and dependable content in the health and wellness websites.
Also, a lot of people are going for home remedies as people tend less to go to the hospital for other health issues.
Trusting your brand by providing what the people want is the need of the hour, which will provide you with more traffic and help.
2. Recipe websites are making it
There has been a surge in the recipe websites as more people are into cooking as they are at home and office cafeteria no more functions.
The websites, having a huge competition can make use of structured elements, meta tags and all other techniques to get their sites ranking high.
3. Publisher websites are being more trusted
People today want to know the updates, latest and current news about anything that's happening around the world.
This is the reason why people depend on the reporter's publishings rater than a Wikipedia page for factual matters.
They want to know the truth, and hence, focus on delivering the same. The articles that give frequent updates and timely suggestions according to the situations are on the rise.
For example, a publisher website who reports the extension of lockdown can also help the audience with some tips for work from home.

4. Travel companies
Obviously, the travel filed is facing a doomed situation, but, still, there are ways that you can make it up to handle the situation.
People do not opt to travel now, but, there are still a lot of people who would want to travel out of their need. Focusing on the right audience is important.
Also, travel insurance is one major thing people are concerned about when they travel, assuring that they are covered if they fall ill.
5. Changes for your Google My Business
People heavily depend on your GMB as they are your only chances of being identified by people. Foot marketing has bid us goodbye during this lockdown situations, and hence, optimizing GMB is important.
People who search for your business must be provided with the right and important information, rather than misleading them.
Information like Working hours, delivery contact, support wing etc must be mentioned with no fault on your GMB account.
Likewise, a lot of changes in searches are occurring due to the current situation.
People who get a lot of time, are trying to learn new things and hence, online classes are gaining momentum. Online lecturers, classes are all important now.
People tend to learn entertainment stuff too, like playing keyboard, singing, online dance classes, exercises, yoga etc.
During the time of COVID-19, a lot of people are dependent on streaming and videos, movies, documentaries, web series etc. They look out for online free streaming and likely as spending money for availing those services would be the last thing they would prefer.
The type of search is changing too these times, as the usage of the desktop has risen as more people are more working from home and are using laptops at home. This doesn't mean that you have to forget about the mobile-first indexing policy, but, just to revamp your desktop site to be more optimized.
These are all the basic changes that are occurring on the online space and they have their own butterfly effects on your business too. Along with the changes that happen naturally, it is better that you make changes for your business too, which helps in the long run.
The changes can be focused on the new trending keywords, the new services that people would prefer, and the employment opportunities that people are seeking for.
Pushing ourselves up a little bit more, with more care and concern for each other, we can get our boundaries to expand a bit more to be inclusive of others and to beat this critical period of the pandemic.
---
Author Bio
Diya is a freelance content writer and a Computer Science learner who has experience in keeping up with the trends and changes in SEO and digital marketing and writing content related to the SEO.