Why can't we talk about online marketing strategies for lawyers in the same breath as other domains? Primarily, since the way online marketing should be done for legal entities is different. It's a domain that requires vertical knowledge in the legal firm marketing techniques rather than just have come knowledge about Digital Marketing techniques.
Sadly, law firm marketing is often an ignored area or something of least priority in law firms. Trends show that the potential clients of law firms usually search for their legal situations on search engines and not necessarily a law firm. Since the search tendency of potential customers is so different, lawyers feel clueless about how to find the right way to market their practice online. Even if they find a digital marketing agency, it must be one which has enough experience of working with legal clients.
The 7 best ways (out of all) that will work to attract new clients to the law firm – well, here they are.
1.   Local SEO
Lawyers located in both small towns and metropolitan cities need high rankings on local search engine results. Digital Marketing agencies focus on SEO rather than Local SEO, which can deliver faster results for lawyers. Unfortunately, there are attorneys who don't consider local SEO at all. If the Local SEO strategy is planned and executed properly, it will help law firms to appear in both local search results (Google map results) and organic results as well.
You need a specialist who can help you with creating a local Google+ account, keeping detailed business listings, and developing a useful local content. Online ratings and reviews are also critical to drawing potential customers to your website.
2.   Paid Advertising
Pay-per-click or social media paid ads can work well for lawyers if done the right way. Legal search phrases or keywords are the most expensive so you need a carefully planned and well-executed paid campaign that can yield high returns for the efforts and the money invested. Paid search like a Google AdWords campaign is an opportunity for lawyers to target potential customers based on local service locations and display at a time that is most suitable for users searching the key phrases.
PPC can help the lawyers with precise targeting, which means, precisely matching the keywords that are being searched. If PPC campaigns and social media campaigns (advertising on Facebook, Twitter, LinkedIn and other suitable social media channels) are not managed effectively, they will lead to a high revenue loss.
3.   Listings on Lawyers Sites
Submitting the law firm details in high-quality law firm listings can also help in boosting the SEO for lawyers. There are some popular lawyers' listings such as Lawyer Legion, Avvo, Justia's Lawyer Directory, and Chambers and Partners to name a few.
You must ensure that the profile must be fully optimized with complete information, be in the right category, and be also optimized with the right keywords. There must be pictures of the office and people so that your listing is creditable. Consistency is the key to listings and your law firm must be listed on all the relevant lawyers' listing websites.
4.   Reviews
As per Search Engine Journal, reviews are to be the most prominent ranking factor in local search, and can help businesses to rank well even if they have low quality link profiles.
There is no doubt that reviews are powerful. If there are reviews from previous clients, then all the better. Experts believe that more than 90% of potential clients read reviews before finalizing a lawyer in their location. It is critical to follow the state bar guidelines when asking for reviews but if the legal firm does get positive client feedback, it means a lot grow the business. To obtain that not only do you require superior services but there's also a need to maintain strong relationship with the clients.
You'll hit a jackpot if your review contains they keywords that you are targeting and your location.
5.   Blogging
Blogs have multiple benefits like educating the potential clients and helping with your SEO ranks. It's a good practice to develop 2-4 blog posts every month that should be engaging for the users. If you're confused about the topic of the blog, think of the client questions that you face. If your advice is worthwhile, you'll be a trusted source for legal needs.
Blogs are considered as lead magnets. Popular blogs can dramatically improve your rankings on search engines.
6.   Q&A Websites
Q&A websites have been gaining a lot of popularity. It's a great marketing, ranking and brand effort to answer questions on popular Q&A platforms. If your answer is popular (ranked higher by users), then user will perceive you as an expert in that area. Therefore, it is particularly useful for lawyers to post answers to legal queries of their expertise area. There are different kinds of Q&A platforms like social (that focus on social interactions), standard (to get specific answers), How to guides (if someone is interested to learn new things), and Q&A search engines (to search for specific questions).
The trend on Google is also to ask questions rather than searching for keywords. For example, people will search for how to restart an iPhone rather than just searching for iPhone. Q&A platforms are ranked high in organic search results. Some of the popular Q&A platforms are Quora, Avvo, Justia and Yahoo! Answers amongst others.
7.   AMA (ask me anything) Sessions – Reddit
Reddit is an independent social community with a huge audience. Many experts (including lawyers) utilize this platform to hold AMA sessions. It is in the form of an interview that happens between the user who hosts the session and other users who wish to get answers to certain queries. There are over 15 million subscribers on AMA and there are several experts from different domain. It also has a community specifically meant for lawyers.
Once you have a successful online marketing strategy, potential clients will start sending their queries through calls, emails or even your social media channels. Make sure that you have resources or a professional digital marketing firm to be responsive and share appropriate answers promptly.
Read more about 5 local SEO best practices that can skyrocket walk-ins for your law practice.
Local SEO can do some amazing things for lawyers. But wait, you thought your strategy concerning SEO for lawyers was enough and that's all you must consider when you talk about digital marketing for legal professionals. The news is that you just can't rely on SEO for attorneys and lawyers alone. The competition is too high and some aggressive digital marketing techniques are needed to help you stand out and tall.
But before we delve on this topic any further, we must be on the same page as far as definitions are concerned.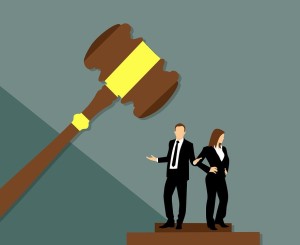 Image Source: https://cdn.pixabay.com/photo/2018/03/03/12/28/divorce-3195578_960_720.jpg
Local search results in search engines giving you results based on location data. Local SEO is a must for businesses and professionals who face a lot of competition locally. Which is why legal professionals must consider local SEO strategy for lawyers.
For example, if you are a criminal law attorney in Dallas, Texas, your local SEO strategy will ensure that anyone searching for a criminal lawyer in that area should see your website as a top result on the search engine.
Local SEO is not complicated. You needn't engage with digital marketing agencies trying to sell you monthly subscriptions for Local SEO services. Speak to our experts today to improve your web inquiries with our local Search Engine Optimization agency services. The local SEO tactic for lawyers is all about making the search engine believe that your legal services are relevant and reliable for the given location. If you wish your local SEO strategy to succeed, all it requires are some best practices and not big dollars.
5 lawyers Local SEO best practices
1.      Leverage Google My Business
Have you come across the tiny boxes that appear with the company name, address and hours of operation when you search for something related on Google search engine? Something like we have added below.  These are the box for Google My business.
The tiny box can get you visibility in search results, show your results clearly, show you location clearly and map as well. It shows your ratings as well. It is simple to add your business to Google My Business but you must enter the information carefully. Everything you need to know about adding your business to Google My business is available on their support page. Once the listing is approved, it must be optimized with description that has keywords and the USP of your law practice.
2.      Have a consistent NAP everywhere online
You need to let your visitors know who you are and how they can contact you. But it is also critical for you to maintain consistent information on all the pages where your information appears. The name, address and phone number should be the same on all channels. Consistent business information on all channels gives credibility to the brand.
You must investigate the sources where your business is listed without your knowledge. If there any such resources and they're useful for your business, ensure that your NAP is consistent. There are tools like Yext that can help you track down all such resources where your business listed.
3.      Try and use Local SEO relevant keywords in content
While Local SEO keywords will not make sense in your website content, you can include them in case studies and blogs. Digital marketers who blog regularly are given preference on search engines as they rank fresh content higher. You can include blogs with long-tail keywords for better results. For example, if you're an intellectual property attorney in Dallas, you can include the long-tail keyword such as "best patent attorney in Dallas TX".
4.      Ensure that your location has its own page
Listing every area that you serve at the bottom of the page is an old trend. You can create a separate page for each page that you are serving. You need to sit down and think of all the possible locations that your practice can serve and make a web page each for that location. You need to cover the neighboring areas of the location as well. The average length of the content on such pages should be anywhere between 400-500 words.
5.      Online review can help your business
More than 60% people read online review before considering a professional Search Engine Optimization expert. People trust recommendations. Even the Google rankings improve with positive reviews and ratings.  You must follow the ethics concerning the online reviews.
If you're still clueless about how to make local SEO tactics work your law practice, speak to one of our experts.