Should You Invest in Writing Content For Google or Social Media?
For some time now, marketing experts have debated whether to invest in content writing for Google or social media. Most companies hire SEO agencies to expand their business through content marketing without realizing the potential of social media.
On the other hand, some businesses rely solely on social media to grow their audience without utilizing SEO. But in terms of purchasing intent, Hubspot reports that 71% of people rely on social media recommendations before making a purchase.
At the same time, 61% of people use search engines to research a product before purchasing. This data makes it difficult to make a decision. So let's break it down and analyze both strategies to know which one offers a better advantage.

⦁ Targeting Your Specific Audience
Investing in content writing for social media and Google can both be useful if you have a specific audience in mind. That's how you can acquire relevant sales, traffic, and engagement. And it's easier to find your target audience on social media than using Search Engine Optimization (SEO).
The reason is quite simple: every social media platform comes with its built-in target audience. You can use that as a guide to search for the right audience for your products or services.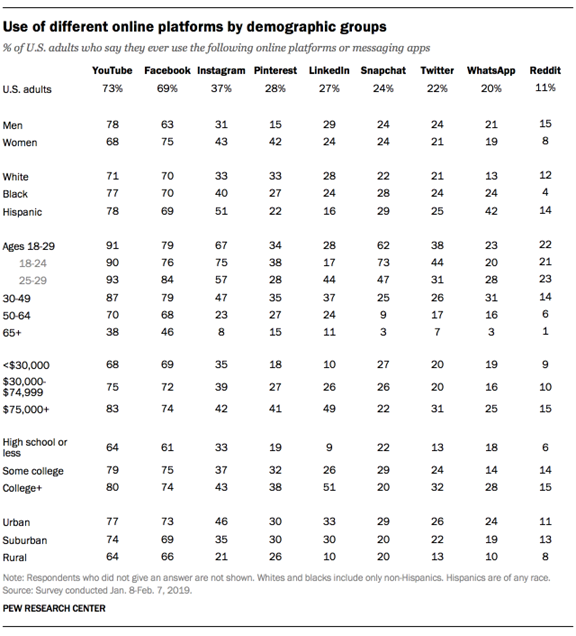 Image Source: Pew Research Center
Pew Research Center's data above reveals how you can find your target audience using the demographics. It also shows the type of conversations they might talk about and how your brand can fit in such discussions.
However, when you invest in content writing for Google, that is, organic SEO, you target people based on the conversations they plan to have. And not necessarily the platforms they're already using.
In other words, organic SEO focuses on in-depth research and extensive understanding of keywords people search for on search engines.
Even though it may seem unnecessary, it can help you create a more conclusive profile of your ideal customer. It can also help you identify their online habits.
Key Takeaway
Targeting a particular audience through social media content marketing relies on personality.
However, organic SEO depends on behavior to develop a better idea of who is interested in your products or services.
So you can use social media to find the right audience for your business. When you find your audience, you can use keyword suggestions tools and quality content to attract that specific audience.

⦁ The Efforts Required
Social media marketing requires a commitment to both creating quality content and constant posting. It also needs adequate planning and social media management tools such as Buffer to schedule postings with ease.
The tools allow you to create posts, schedule, and monitor them. However, as you may know, the lifespan of a social media post is short. And that's why it's necessary to post on consistent bases and be responsive to comments as much as possible.
Even though tools have made it simpler, it still needs more effort to see results.
But investing in content writing for Google can take about six months before you can see results. And it requires regular efforts.

Key Takeaway
When organic SEO is done correctly, you can gain more conversions and can require minimum effort. However, you may need to put more effort into social media. If you succeed, you can increase your brand awareness significantly.

⦁ Type of Content
Content is highly relevant in both social media marketing and organic SEO (content writing for Google). There has been a debate on the type of content suitable for organic SEO and social media.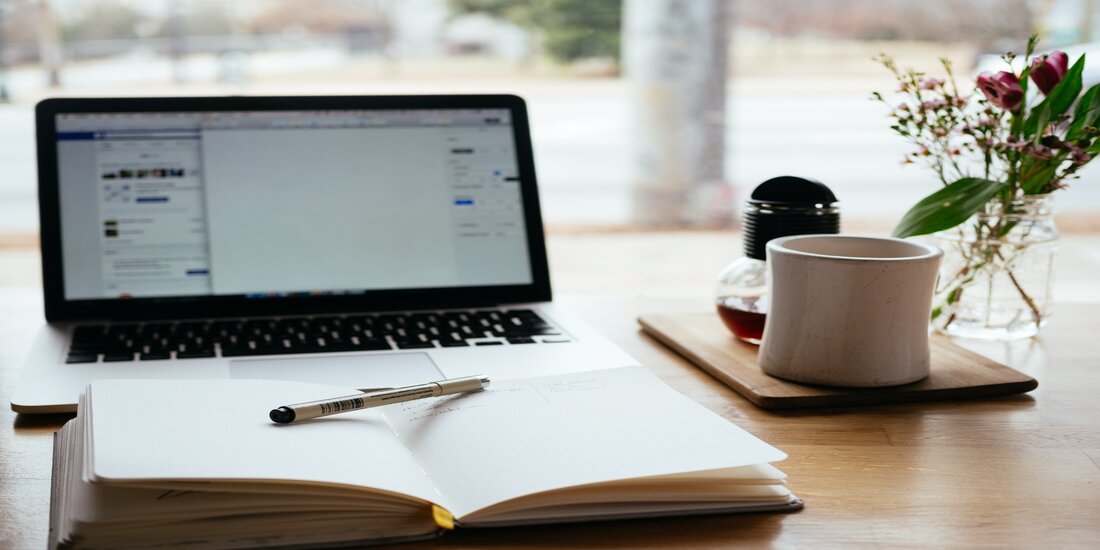 According to Hubspot, long-form content performs better for SEO. There are no minimum length requirements for blog posts officially. However, Yoast suggests 300 words, at least. That said, according to Hubspot research data, writing longer content should be the rule, not the exception.
Social media posts are generally shorter in length and optimized depending on the platform you see online. They are also less technical compared to contents on the web, such as case studies or blogs.
So social media marketing and organic SEO rely on totally different content types. However, they both depend on each other to provide the maximum impact. For example, an infographic posted on Facebook may link to its long-form content on a site. And that can increase traffic to the website.
Another relevant factor to consider in terms of content is user engagement. Let's retake the previous example. As more people share, comment, and retweet the infographic, it will increase the traffic to the website.
You should focus on driving more traffic to your web content through your social media platforms. And optimize them for search engines.

Key Takeaway
If you want the best results, you should combine social media tactics with organic SEO. You should also invest in content writing for Google and optimize each blog post for search engines.
That is, making use of long-tail keywords, meta tags optimization, image optimization, etc. You also need to implement the best social media strategies to get higher engagements to your content.

⦁ Urgent Products and Services
Does your business provide products and services that are in urgent need?
Most times, people search on Google to find a product or service they immediately need. For example, when your air conditioner stops working, you search on Google for a repair service, right?
If you are a company that provides emergency services, you should prioritize ranking on Google for keywords related to your business. Ideally, if you're able to rank on the top three results, you'll get enough clicks. Through that, you'll get high search traffic to your site, which will result in better sales.
So you don't need to invest money on social media advertising when your consumers are searching for your services on Google.

Key Takeaway
Know where your customers search for your products and services and invest in that area. If you offer urgent products and services, you need to invest in organic SEO.

Content Writing For Google or Social Media: Which is Better?
Should you invest in content writing for Google or social media? The truth is that both have their advantages and disadvantages. That's why it's essential to ask these vital questions:
⦁ Can I identify my niche?
⦁ What opportunities lie within my niche?
⦁ What does my target audience need?
If you already have a fair amount of traffic to your website, you should focus on your social media efforts. Through that, you can increase your brand awareness. It can also be an effective strategy to deal with negative feedback on your products or services.
On the other hand, the vice versa is also equally important. If you have substantial traffic on your social media platforms than your website, you should invest in content writing for Google.
As stated earlier, you also need to consider the duration with which organic SEO and social media produce results. SEO content writing takes longer to take effect. But an effective SEO strategy can improve your rankings for many years to come.
But content for social media tends to go viral extremely fast. If you get lucky, the exposure and reputation you acquire for your brand can be tremendous. However, due to social media's nature, your popularity can decline as fast as it came.
Even still, the timeframe in which the hype stays can be enough for people to remember your brand.
Now, even though you don't pay Google to rank your website, you may need to hire an SEO expert. They can help your site to rank well on various search engines. So you need to consider your budget and long-term goals.

Create Content For Both Google And Social Media
We've been talking about investing in content writing for Google and social media as separate entities. But can't you create content that performs well on both social media and Google? Yes, you can!
A good example is infographics. The visual aesthetics makes it perfect for your social media audiences while providing relevant and helpful information. At the same time, it can also give the web page an SEO boost. That's because more people may want to read the full article.
Another example is video content marketing. You can boost your rankings on youtube while securing the attention of your audience on social media. As you probably know, YouTube is the second biggest search engine. So you can get significant benefit from unique video content.
Also, videos can increase a visitor's time on your website, which can help you obtain higher conversions.

Conclusion
Investing in writing content for Google and social media are two highly relevant areas you need to consider. Both areas can help you get your business to another level. The best approach to organic SEO and social media is to utilize both of them.
Search engines have begun ranking for engagement. Due to that, you need social media marketing to assist in your SEO efforts. However, you also need to work on increasing organic traffic to your website. As more people come to your site, the more they engage on your social media platforms.
So it's better to invest in writing content for both Google and social media.