The No-Fail Guide to Growing & Monetizing a Digital News Website in 2020
At a recent conference I attended, a fine entrepreneur explained to me why growing a digital news website in 2020 is nothing short of an uphill task.
Rightly so, with the conventional media investing big time in the digital realm and the already established publications doing everything in their power to not let go – it is in fact tough.
The best thing about the internet, however, is that the playing fields are fairly level. Engagement one can buy with ad spends is nothing more than what shareability or virality can fetch you. Getting your site to the top with ads can work for those who afford it, but nothing beats the good-ol' thorough content that ranks at the top and generates organic traffic for years.
On to digital news websites, space is far from being saturated. But it's definitely competitive.
From gathering a sizable readership to putting the right tools and workflows in place for generating revenue, it takes a lot of effort and patience.
Before we discuss the monetization aspects, first things first:
Invest in a great site
Having a high-performance and reliable website must be a top priority for a digital news website in the beginning.  The reason behind this is pretty simple. As your publication grows, you would want to keep the users engaged and boost retention.
Now, that would mean adding a lot of features. Some of them – very useful, some of them – not so much. But you'll need to experiment to reach a conclusion.
The variety of network and device conditions out there is another important factor that your website should be prepared for.
More than anything, it is about credibility
Viewers across the world are always trying to solve their problems on the internet (search and sites). Were they interested in beating around the bush and killing their time, they would be watching memes on the internet, not that I don't love memes. The point is – users are looking for experts who can answer their questions and enlighten them.
Something an unresponsive website can't deliver; because UX!
Google and other research tools have already explained this in so many ways over the last few years. According to DoubleClick, a project by Google, more than 53% of users would abandon a mobile site if it took longer than 3 seconds to load.
Cruel, I know.
BBC, one of the pioneers in digital news, has found that they lose an additional 10% of their users for every single second their site or affiliate sites take to load. This makes site infrastructure too important not to be serious about.
Open-source is not a bad option
We all know a lot of publications from the era of print journalism find it pretty hard to stand on their feet. The same goes for new publications that are yet to cement their place.
Not only are they starting things from the beginning, but they are also needed to do it on a fairly tight budget – translating into a need for great but cost-effective digital solutions.
Open-source frameworks such as drupal can be highly effective if you are looking for great infrastructure that can be customized as per your needs. Unlike the "canned" software provided by corporations, you get to command a large extent of customization that meet your brand guidelines.
From The Economist in England to various government departments across Australia, drupal and other open-source frameworks are used to build and scale publications with high levels of customization: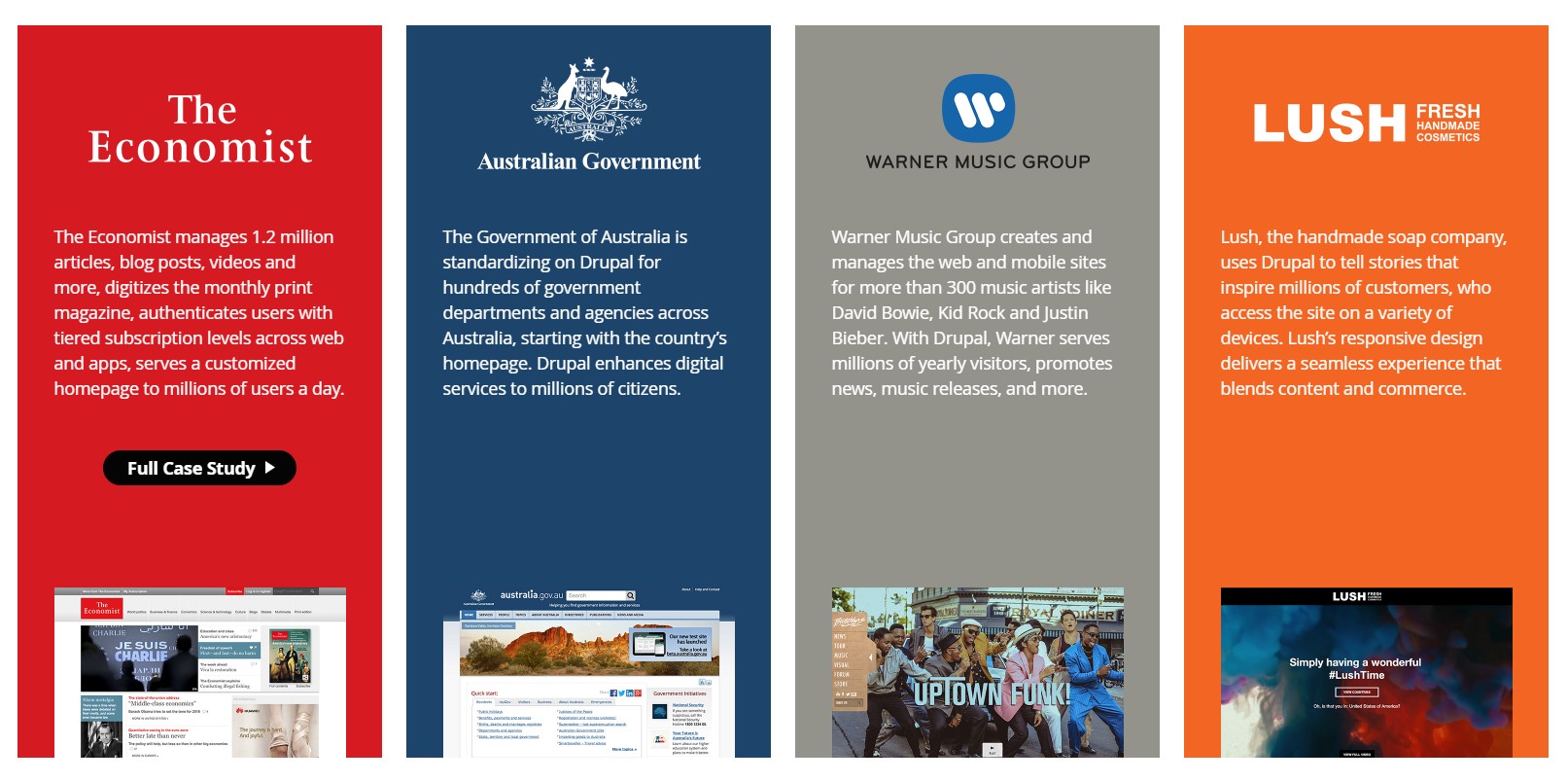 CDNs and Caches are your best friends
Scalability is one of the biggest challenges that digital news websites face at regular intervals. Whether it's an important sports event like the world cup and Olympics or a major event like the EU referendum – your site needs to be prepared for enormous loads on the servers.
By using the cache, your site can store copies of data into the user's computer and then use it when they come back – reducing crucial seconds of loading. It does that by making sure that the users do not end up downloading the same files repeatedly, hence the lower number of requests made to your web servers.

Caches are awesome, but they have their own limits. Beyond a certain load, caches are not going to save you from crashing.
Enter CDNs.
A CDN (continuous delivery network) allows you to deliver all your static as well as dynamic assets to handle larger traffic for sustained periods of time. If you intend to create high-quality content for your audience, it is important to use images, videos, and all sorts of rich media elements. These heavy files can slow your site down unless you implement CDN effectively.
SEO for your Digital Newsroom
Whether you are just starting a new publication or trying to grow one, getting new users from search engines must be a top priority.
You may look at any of the top news sites, you'll find that organic search traffic is a priority for them. Here's what a site with serious SEO strategy looks like:
A lot of backlinks.
Internal links to pages on their own site.
AMP pages being set up.
Traffic from Google News and the Discover feed.
Let's look at the BBC. Here are some of the basic SEMrush numbers:

Millions of backlinks, check. Millions of organic visitors, check!
Take a look at another one of the top news sites:

Similar numbers, just a bit bigger. Owing to the fact that the other BBC domain (bbc.co.uk) has its own SERP.
First things first, indexation and crawl speed.
These are the most important aspects of SEO for a digital news website. To make sure googlebots (crawlers) are able to find your site – you must make site crawlable and be easy to be found.
The first thing you need to do is submit an XML sitemap if you haven't already (very, very bad) done it.
The second thing you need to do is perfect your internal linking game.
No image links: The most important thing you must know is that Google is not friendly with image links. The reason behind this is the absence of any anchor text in cases of image links. So, when Google goes through an image link – it is difficult to understand the context. Giving your own pages a bad link juice at the end of the day. If you do need to use an image link, make sure that they have relevant and contextual ALT text at the very least.
Use screaming frog: If you are going to run a digital news website in the long run, make this software your best buddy. When it comes to internal linking, the first thing you need to do is get your hands on the Force-Directed Crawl Diagram.

These force-directed crawl diagrams act like a heatmap with different shades of green being used for nodes based on their proximity to the homepage. Here: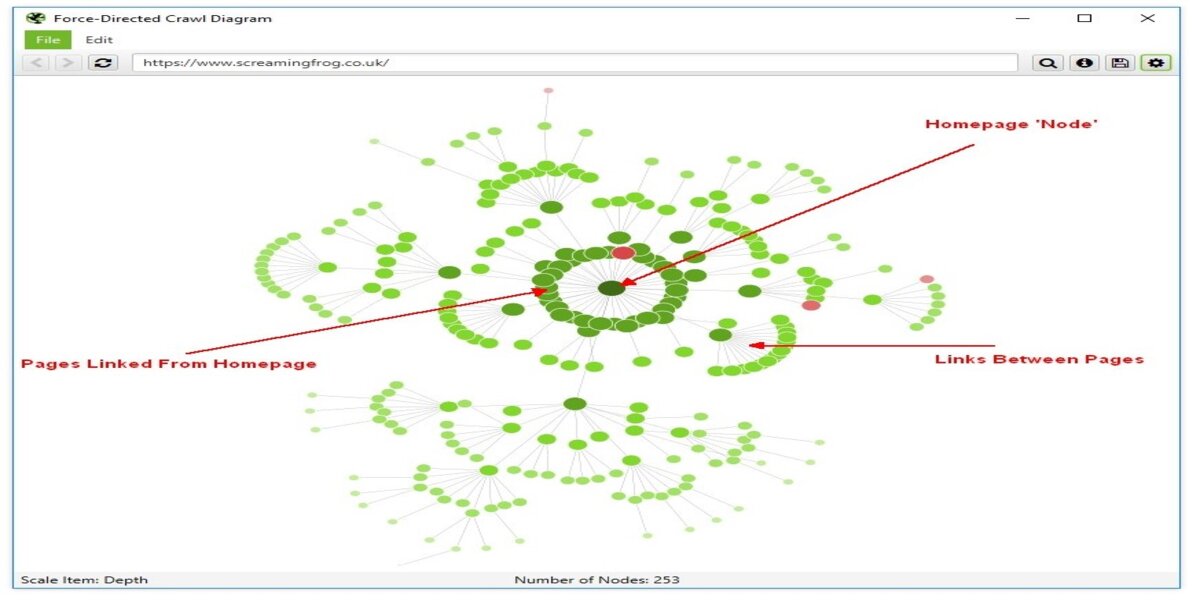 In this diagram, you would be able to see all the different types of nodes. These include the indexable nodes (nodes you don't have to worry about), non-indexable ones, and the collapsed or truncated ones.
Another important visualization with the screaming frog is a crawl tree graph diagram. It is used to gauge the depth (number of pages linking to a given page) of the various pages (nodes) on your website.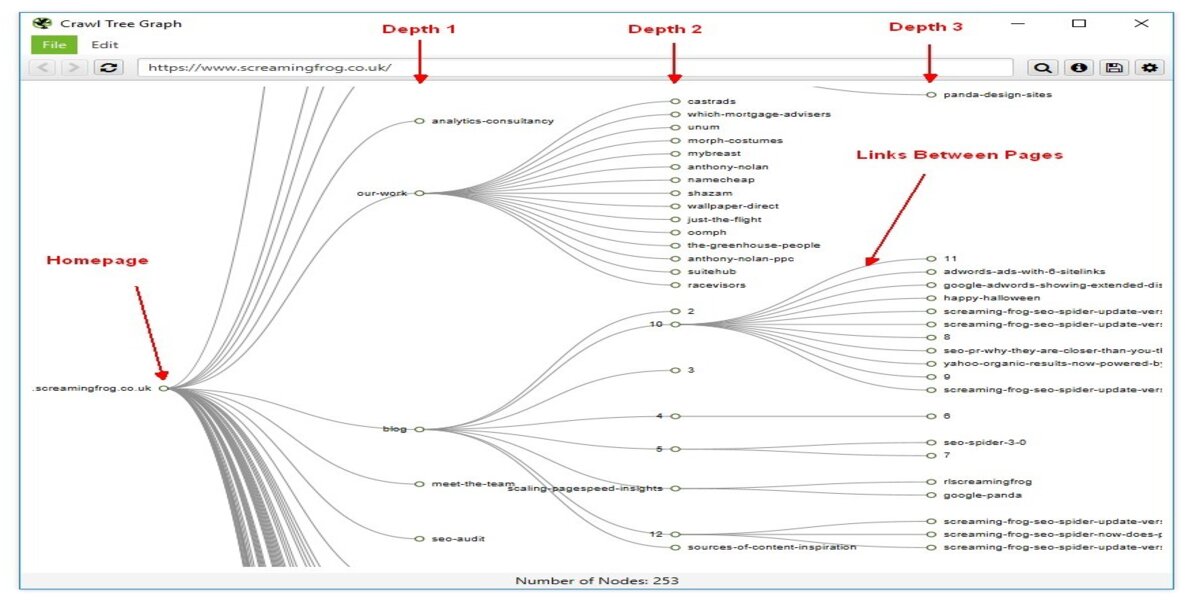 By using these diagrams, you can easily detect any inconsistencies with the internal linking at your digital news website.
Using AMP
As we all know, Google is always looking to improve the browsing experience for the users. From reprimanding sites with duplicate content or unresponsive design to just about any gimmicks whatsoever, Google is always proactive about it.
Started in 2015, Google made sure it incentivised websites with the AMP pages at various levels. While some say that this is a concerted effort to mine more data of the users, the AMP pages have been very helpful in providing users with fast-loading pages.
AMP (Accelerated-Mobile-Pages) HTML is a mobile-first technology based on Google's CDNs across the world. This helps publishers to create and show mobile-friendly pages on their own sites – that load faster.
Heavy news websites like the BBC and NYT have found spectacular loading times of 0.8 seconds by using AMP pages. Right now, more 65% of all news bites are loaded in the AMP format. This makes AMP a necessary, instead of an option.
Targeting Google News and the Discover feed
Far from the fanfare, Google has built a sizeable audience and distribution capabilities with Google News and the Discover feed in their Google Apps.
With more than 280 million people using Google News and around 800 million users going through their personalised Discover feed, they are probably going to be the biggest sources of traffic for your site.
While the Discover feed is a tough nut to crack just yet, Google news is fairly direct and easier to get traffic from. Here are the major source of traffic that you can leverage in the Google News:
Search Function
Filters based on demographics
Editor's Picks
Top Stories
Suggested for you
Industry Categories
Some general tips for getting traffic from Google News include:
Making sure the URLs and Titles describe the content properly.
Only HTML format is used to deliver the content.
No use of PDFs or Javascript for minifying the content.
Ensure high crawlability of the site.
Create a unique sitemap for Google News and submit it.
When you are posting content, make sure that you have covered the following pointers:
1. Keywords in Title and Meta tags – This is one of the most important points when it comes to posting an SEO-friendly piece of content online. The important thing to remember is that you must use the LSI versions of keywords, instead of using the same keyword over and over again. This will hamper your chances as readability issues will start springing up. Not only this, but Google is quick to reprimand for keyword stuffing too.
2. Internal and External links – As we discussed in the earlier parts of the SEO section, it is important to add relevant and contextual links to your pages. Not only does it help you to distribute your link juice throughout the website, but Google also finds it easy to crawl your website.
3. Readable and Scannable – As the search algorithms are advancing, they are going big on user experience and related metrics. Formatting of your content is an important aspect in this regard. The very first thing you need to do is keep the sentences shorter, and paragraphs with less than 3-4 sentences.
4. Optimization of Images – To engage users with your content, you will be needed to use a lot of images and rich content in various forms. From your featured images to infographics that act as a magnet of readers too. But you need to be smart about these images. Publishers need to resize and compress these images before they go live. It will take a few extra minutes, but it goes a long way in controlling the load on your website and improving the reader's experience.
Win Trust
Millennials or not, humans are always hungry for more. You need to give them more.
The only way you can thrive in the long run is by making sure you retain readers and followers over the period of time.
When the Guardian was having a hard time, as a result of fairly direct and inefficient pricing model along with the events-centred approach. Soon enough, they started tapping into the loyal readership. And it worked.
When the Guardian and its consultants asked their readers if they would prefer giving money to the paper as a cause or pay a monthly fee for discounts to events, the answer was clear. The readers saw this as a cause. To keep journalism free from the government and corporate grasp, and more importantly – unbiased!
Here's the message they show to the readers:

Soon enough, it added an additional 190k one-off contributors to their existing readership for 230k (quite close). But getting readers to see you as an important part of their lives is not easy, it's achieved with years of great work. Here are some important things you can do about it:
This is one of the biggest challenges in front of any news website in the world. While we might kid ourselves into thinking that the readers do not care much and would just let anything slide by, that is not the case anymore – fortunately!
To build trust among the readers, you must project yourself as the ultimate site for facts. And it is not just about the political issues, being factually incorrect about even the most trivial of things can haunt your site for years to come.
Another important thing to remember here is that it's okay to make mistakes once in a while, as long as you retract and promote the corrected factors several times harder than the original piece.
The most important thing about running a news site is to remember that your followers and readers rely on you to educate themselves. If you fail to cover an important event or news, or not cover it comprehensively – you are going to disappoint your readers.
Now, the best way to do this is to only take as many categories up that you are sure about handling.
Readers are always looking for expert-level content and insights for understanding an issue. You need to make sure that you show your expertise with in-depth content and easy-to-understand explanations for complex issues.
While it's true that some topics would require a thorough explanation with technical terms, but make sure you help users understand them. You do want the reader to go out and look for some other site that offers a simpler explanation.
Concluding Thoughts
The internet is truly the biggest disruptor that the newsrooms and print media has ever seen. Race to creating an internet dominance for news websites is truly cut-throat.
Going online with a site is merely the runway your news publication needs. By following the tips and guidelines we have shared above, you can truly take off!
---
Author Bio
Harsh Vardhan Dutta is a digital marketing consultant, currently at the helm of Italics. He spends a large part of his time exploring tech-related marketing techniques that lead to growth marketing.