2021 Google Search Console Guide for Dummies
If the aim is a thriving online business, you should measure your performance with particular metrics. For instance, if you launch an ad campaign, your concentration will be on the Return of Investment (ROI) and the performance. If it is a branding campaign, checking the results on revenue and sales is essential. The same concept is used for measuring your website's performance.
It is challenging for most people to measure their site's performance. How do you know whether a specific page on your website is performing or not? Even more relevant, how do you determine if an error is preventing your site from gaining traffic?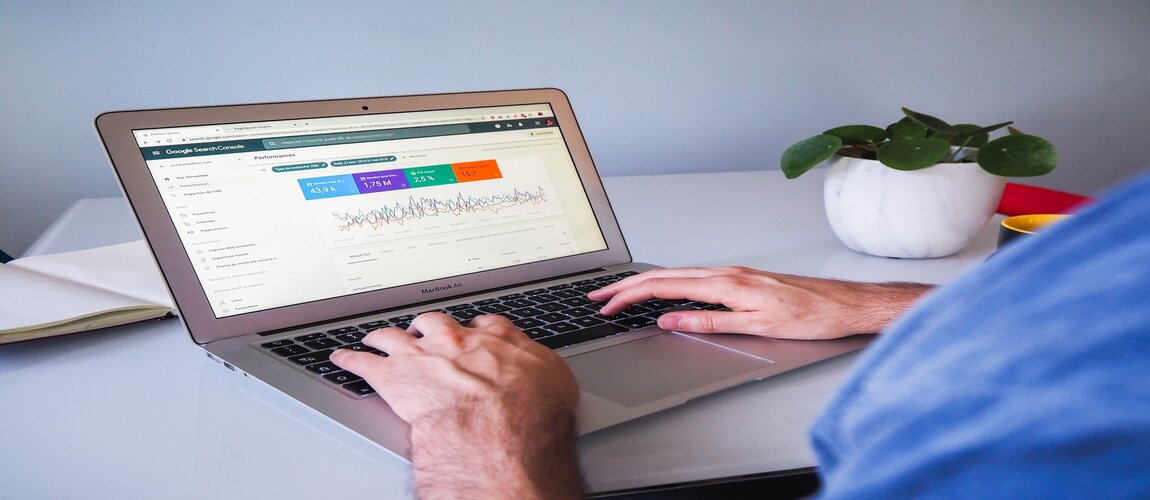 Source: Unsplash
When a website has errors for a long time, it can lead to on-site SEO failure. That can cause lower rankings, even if you have the best SEO strategies. Fortunately, Google Search Console can help you track your website's performance effectively.
Understanding The Search Console
Google Search Console is an internet tool that gives you detailed reports of what is happening on your website. These reports can help you optimize your site and enhance its SEO performance on Google search.
With Google Search Console, you know how Google views your website. There are valuable information to learn such as how Google ranks your website, search security issues, traffic numbers, mobile performance, manual actions, etc.
Note: If you realize any security issues or manual actions in Google Search Console, speak to your SEO agency or developer immediately. That is because it can hugely affect your site performance.
How To Set Up A Google Search Console Account
If you are entirely new to Google Search Console, your primary concern should be to add the tool and verify your site by Google. When you do that, you assure Google that you are the website's owner, whether you are an authorized user or a webmaster.
It is a necessary precaution because you will get access to a comprehensive source of information. And Google would not like it to fall into the wrong hands.
How To Add Your Site To Google Search Console
1. Use your Google account to log in. If you've previously opened a Google account, you can use it to access GSC. If not, you have to create a new one. If it is a business account, make sure to sign in to your business account, not personal.
2. Visit Google Webmaster Tools.
3. Click "Add a property."
4. Select "Website" from the drop-down menu and enter your website's URL. Make sure you are using the same URL that shows in the browser bar.
5. Click "Continue."
The next step is to choose a way to verify your website. There are seven ways to do that, but here are four easy alternatives to verify your account.
4 Easy Steps To Verify Your Google Search Console Account
Option 1: Add An HTML Tag
1. Search for the dashboard and choose "Manage Property." Click "Verify this property."
2. There are two options here. You can click on the "HTML tag" located under "Recommended method" or choose the "Alternate methods" option and choose "HTML tag." You will acquire the HTML code to verify your website.
3. Copy the code, open your homepage's code and paste it in the < Head> section. You can paste it anywhere.
4. Save and publish the updated code.
5. Open your website's homepage to view the source code of the site. You should see the verification code in the <Head> section.
6. Go to Google Search Console and click "Verify." You should see a confirmation screen after Google checks your website's code.
It is better to go with the HTML tag option if you have an experienced team such as an SEO agency. They will help you add the HTML tag to your Google Search Console. It is an effective process that can get your business verified quickly.
Keep in mind: copy the code as it is into the Google Search Console. Do not change the code in the source file. Any changes will result in an error.
Option 2: Add Google Analytics (GA) Code
Assuming you have Google Analytics experience, you can use it to verify your website.
1. Check if your website's homepage code if the Google Analytics code is found within the < Head> section. If not, move it to the <Head> section.
2. Go to the dashboard, select "Manage site," then "Verify this site."
3. Choose the GA tracking code option, then follow the instructions.
Option 3: Upload a HTML File
1. Visit the dashboard, choose "Manage site," then "Verify this site."
2. Select "HTML file upload" under "Recommended method".
3. Follow the instructions, download the HTML file, and upload it to the particularized location. Do not change any details; otherwise, verification will not be possible.
4. When uploaded, go to Google Search Console and click "Verify."
Option 4: Verify Through Your Domain Name Provider
1. Go to the dashboard, click "Manage site," then select "verify this site." Choose the "Domain name provider."
2. Select your domain name provider from the list or select "Other" and follow the instructions.
How To Use Google Search Console To Boost Site Performance
If you are using Google Search Console for the first time, the first step is to set your preferred domain. That is, whether you want to use the www or non-www domain. To begin, check your website settings and click the preferred domain. If your preferences lie outside these options, you can choose not to.
However, if you do not select your preferred domain, Google might see either domain version as different references to different pages. And that can lead to weak backlinks, thus, affecting your rankings on Google.
Here are ways to boost your site's performance.
1. Submit A Sitemap Via Google Search Console
When you submit a sitemap, it helps Googlebot to crawl and index your web pages. When done correctly, it can increase your site rankings. It is essential when your website has hundreds of pages.
It is easy to create a Google sitemap document. Use the Google Sitemap Generator to generate an XML file. Next, go to the sidebar section on Google Search Console. You will find a "sitemap" option. Follow the instructions to submit it to Google.
It will not take long to submit the sitemap to Google. However, you may need to wait for the sitemap report to come in, stating that Google has successfully indexed your sitemap.
2. Reports On Core Web Vitals
Core Web Vitals tells Google the level or quality of user experience on your website. So the Core Web Vitals report gives an overview of any improvements you need to make to improve your user experience. Some problems could include slow page loads, non-responsive web design, etc.
Core Web Vitals are three components: first input delay, cumulative layout shift, and largest contentful paint. These are the crucial elements that Google uses to determine the UX score.
3. Mobile Usability
The Mobile Usability tool can show you if any usability issues exist. In simple terms, the tool will let you know if users are facing problems when they visit your website on their mobile phones. Keep in mind that mobile-friendly, responsive design is critical to a perfect UX performance and increased organic search ranking.
What Benefit Do You Get From Google Search Console?
● Your Website's Visibility Improves
Have you ever had gone through an experience where you created a great website, but people could not find you on a simple search? It can be a frustrating experience. With Google Search Console, people can search for your business online.
● Virtual Images Stay Updated And Current
When you fix any coding issues or broken links, Google Search Console helps you update the changes. But this happens such that Google's search console takes a precise snapshot of your website without its issues.
● Better Keyword Optimization To Gain More Traffic
Knowing what attracts people to your site can help get a better user experience. Google Search Console allows you to understand the key phrases and keywords that people frequently use to access your website. With this knowledge, you can adequately optimize your website to respond better to particular keywords.
● Your Site Becomes More Responsive And Faster
One of the major things that cause visitors to abandon a website is slow loading speeds. It can increase your website's bounce rate and cause a dent in your revenue. Google Search Console alerts you of such issues so you can quickly solve the problem. Your website becomes mobile-friendly and highly responsive.
● Backlink Analysis
The backlinks, sites that link back to your website, tells Google how popular your website is and how valuable you are. With GSC, you get a broad overview of every website that links to you. That way, you will know what encourages and maintains your popularity.
Conclusion
If a website is essential to your business model, Google Search Console can be helpful. Aside from being an excellent tool for monitoring your site's performance, it can help you identify any issues.
With Google Search Console, you can gain valuable insights that can help you or your SEO agency develop effective SEO strategies.