Google Analytics 4 FAQs: Top SEO Company Provides Answers to 14 Frequently Asked Questions on GA4 Globally
1. What is Google Analytics 4?
Google Analytics 4 (GA4) is the latest version of the free web analytics tool that you can use to measure traffic and user interactions on your website. GA4 is built on top of the same core code as Universal Analytics (UA), so they have many similarities. However, there are also some key differences between them.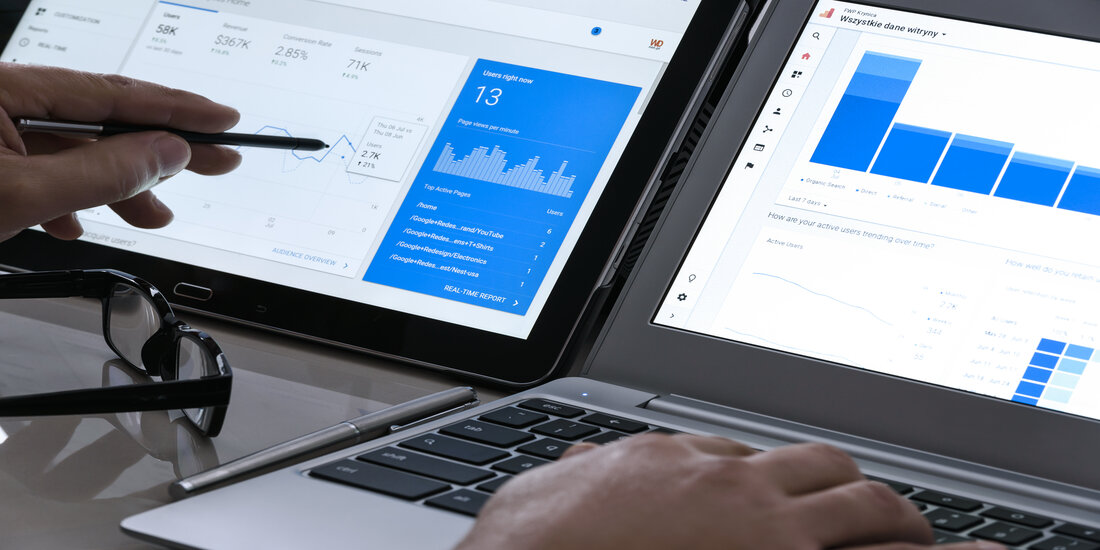 2. What do you need to know about Google Analytics 4?
GA4 is a new version of Google Analytics that unifies reporting across mobile apps and websites using the same data model. It's designed to make it easier for you to get started with analytics and hope it will help you answer more of your questions about your business. You can also use GA4 alongside your existing Universal Analytics accounts till next year when it will finally be phased out which means you have no obligation to upgrade if you don't want to.
Google Analytics 4 has a new look and feel, which is cleaner and more intuitive than previous versions of the product. It also provides an upgraded interface for managing multiple properties within one account, giving marketers greater visibility into their digital marketing efforts across all devices (including mobile).

Source: Google
The updated interface also allows users to easily create custom reports and visualizations using pre-built templates or by building custom ones from scratch.
3. How do I create a Google Analytics 4 property to measure my web or app data?
You can set up Google Analytics for free at https://analytics.google.com/.
If you are using a free version of Google Analytics, it allows for processing of up to 10 million hits per month, per account, but GA4 has no such limits.
If you're already familiar with Universal Analytics (GA), then the transition to GA4 should be pretty seamless.
4. What changed in Google Analytics 4?
GA4 is built on top of Universal Analytics (UA) and provides enhancements.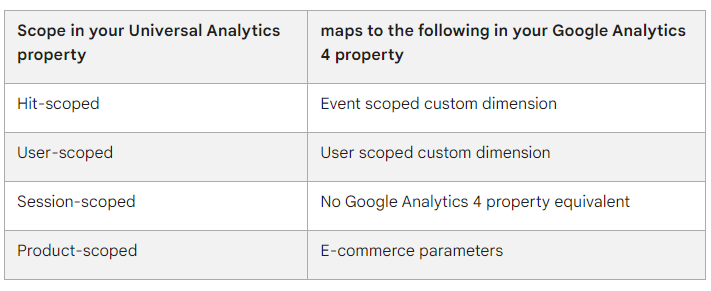 Source: Google
With GA4, Google has introduced several new features that make it easier for businesses to track their customers' behavior across multiple devices and browsers as well as provide a more comprehensive overview of their digital presence. Some of these features include:
A unified data model: GA4 uses the same data model as UA, so there's no longer any need for separate tracking code for mobile apps vs web pages; this allows us to provide a consistent experience across all platforms, making it easier for analysts to understand how users are interacting.
Universal tracking: This feature allows you to track customers across multiple devices (desktop computers and smartphones) with the same ID number or cookie. With this feature, you can easily see how users are moving between desktop computers and mobile devices — allowing you to better understand device preferences, see what content they're consuming on each device type (and where they're dropping off) and more.
Improved user experience: The new UI makes it easier for users to navigate and explore their data in real-time. It also includes modern features like collapsible panels, resizable charts and responsive design (for mobile).
New data sources: GA4 supports more than 400 data sources including Facebook Ads Manager, Bing Ads & Bing Webmaster Tools, as well as many new ones such as Amazon Advertising Platform/Amazon Marketing Services/AWS Data Pipeline/and more.
5. How do I create an exploration report in GA4?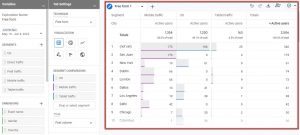 Once you log in to your Google Analytics 4 property, click Explore on the left sidebar. You can select either Free Form (or Blank) to start creating exploration reports like the one seen above.
In the "variables" column, you can choose a date range, and select dimensions/metrics/segments to apply in your report. In the 'Tab settings" column, you can configure what the report will look like.  You can add dimensions in Rows or columns, which will be displayed as above.
6. What are the new features of Google Analytics 4?
GA4 has a number of new features compared with its predecessor, including:
Real-time visitor insights: You can now see what visitors are doing on your site instantly without having to wait days
Improved scalability, particularly for large websites with many pages and interactions with multiple properties.
New out-of-the-box visualizations make it easier to understand your data and see trends over time.
Customized reports allow you to see only what you want to see in your reports by excluding metrics, dimensions and segments that aren't relevant to your business goals or interests.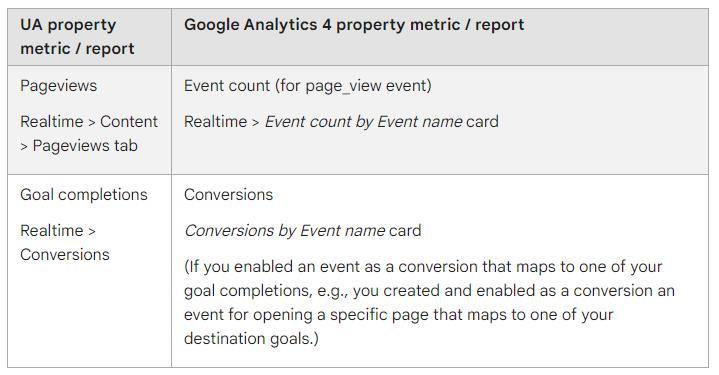 Source: Google
The addition of Custom Dimensions and Metrics allows developers and marketers to collect data that isn't available through other channels such as surveys or forms but still impacts conversion rates or user behavior on your site.
7. What makes Google Analytics 4 different from previous versions?
A new user interface (UI). The biggest change to GA4 is the improved user experience (UX). The UI has been redesigned using Material Design principles, which means it's easier to use on mobile devices and tablets. It also looks much better on desktop computers!
The new interface is cleaner, simpler, and more interactive than before — it's easier to navigate between segments and filters, for example. It also has more powerful visualizations that make it easier to spot key insights at a glance. There's also a new integration with Google Search Console which lets you see search traffic alongside other data sources in one place.
A new reporting structure. GA4 uses different reports than past versions of Google Analytics — this helps you understand your data better so that you can make better decisions about your website or app.
The ability to create custom metrics, which allows you to track specific information about your business that isn't currently available in GA4 by default. This makes it easier for marketers and SEO services to measure important metrics like conversion rate optimization (CRO) and customer acquisition cost (CAC).
8. Is GA4 better?
We think so! With GA4, Google focused on making it easier to use analytics data to inform decisions in your day-to-day marketing activities.
GA4 is a completely rewritten version of Google Analytics, which means that it's much faster and more powerful than previous versions. It also has new features like:
Improved data collection speed: GA4 collects data faster than its predecessor because it uses machine learning to determine which events are most important to you.
Faster reports: Your reports will load faster because GA4 uses machine learning to pre-cache certain elements before they're needed. This reduces the time it takes for data to be processed and displayed in your reports.
More accurate results: GA4 has a more advanced algorithm that makes it easier to identify unique visitors across different devices and browsers, as well as more accurate traffic sources and campaign tracking information.
Automated Rules and Custom Reporting: This allows you to easily create custom dashboards without having to rely on developers or IT teams to create custom reports for you.
More visualizations like funnel charts and user behavior flow maps allow marketers to quickly spot trends in their data without having to rely on developers or IT teams for help creating custom reports for them.
9. Does Google Analytics 4 Replace Universal Analytics?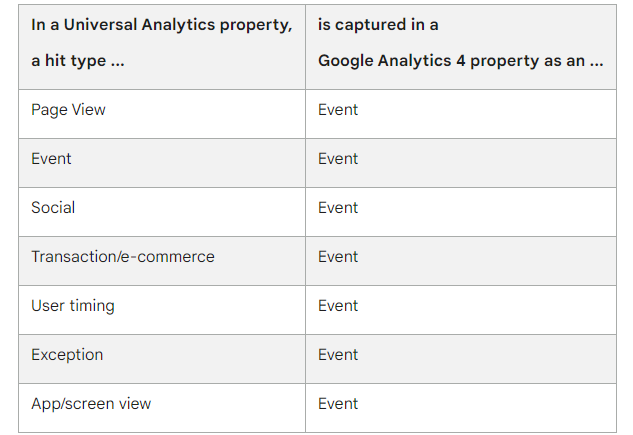 Source: Google
Yes, GA4 was created by Google to replace the old Universal Analytics. However, it is still supported and will continue to be supported until July 2023 when it will finally be phased out. We recommend that you upgrade to GA4 as soon as possible so you can take advantage of the new features and improvements it offers over Universal Analytics.
10. Should I upgrade to Analytics 4?
Yes, if you already have an account with Universal Analytics and want to upgrade to Google Analytics 4 (GA4), then yes! In order to get the most out of GA4, you need to first upgrade from Universal Analytics (UA) or Enhanced Ecommerce (EE). This involves updating your tracking code, customizing some settings, and activating features like Enhanced Link Attribution, which helps you understand how people get to your site and what they do once they are there.
The only requirement is that your tracking code has been implemented correctly on all pages of your website/app (e.g., JavaScript tags).
If this isn't the case, this means that any data collected before upgrading will not be available in GA4 reports. However, after the upgrade process is complete, everything should be working as normal again! We're here to help! Contact our SEO company and we'll walk you through the process so that you can start using the new features right away!
11. Does GA4 cost money?
Yes, it will cost you money if you want to use the full set of features that Google Analytics 4 has to offer. The basic version of Google Analytics will be free but with limited functionality. If you want to use the full set of features, you need to upgrade to Premium or Enterprise versions of Google Analytics.
12. Can I have both Universal Analytics and GA4?
Yes, it is possible to have both Universal Analytics and GA4 installed on your website at the same time, but you need to be careful because there are some differences in functionality between Universal Analytics and GA4, this can cause reporting discrepancies between these two versions. In most cases, it's best to migrate all your accounts to GA4 as soon as possible because it provides better data collection than Universal Analytics. That way, you'll be able to see better insights about how visitors interact with your website.
13. How do I know if my website is using Universal Analytics?
The easiest way to check this is by going to your Admin tab and looking at the tracking code on your site. Click 'Tracking info' under the Property column. Click 'Tracking code' and you will find the Tracking code which starts with "UA" for universal analytics.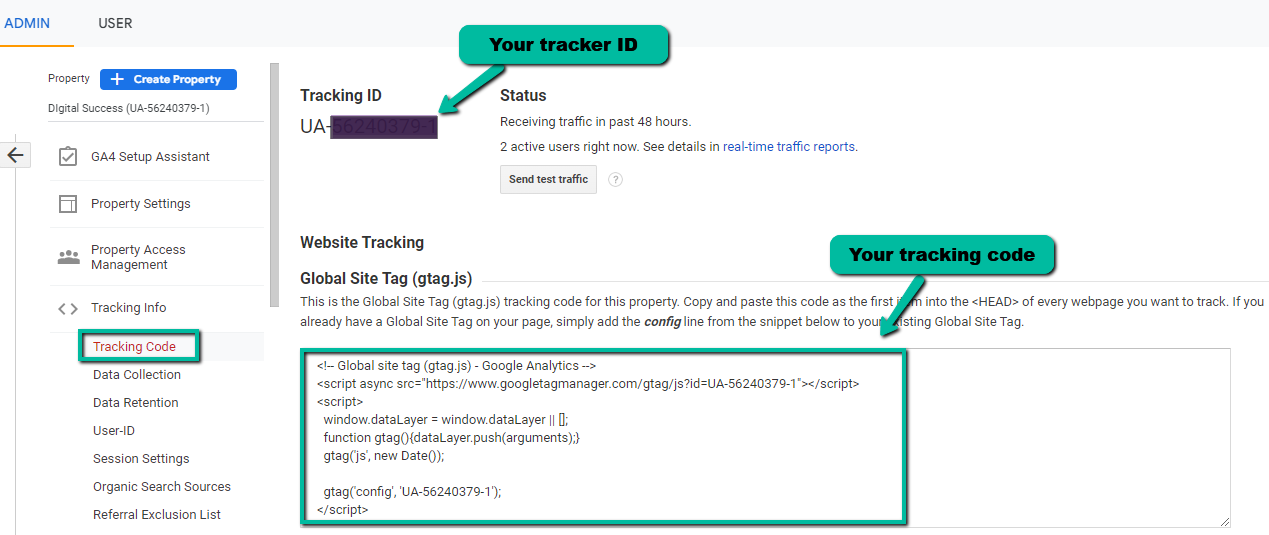 14. How do I use GA4?
If you currently have a GA property set up within Google Analytics, simply update your tracking code in order to sync your site with the new version of the platform. If you're not sure what you need to change or if you have any questions about upgrading your account, contact us for help!