Marketers Success Guide to Survival in the Era of Social Distancing + Free tools
Social distancing. What's new this time?
Even much before the Coronavirus pandemic became a piece of news, we were accustomed to the social distancing, courtesy penetration of the digital media and hyper-busy lifestyle of modern society.
The only difference being is that then the social distancing was a mere question of choice. One may still choose to ditch the virtual and enter the real world for all kinds of human society experiences, verbally, emotionally, and physically!
While the latest COVID-19 outbreak has made social distancing a necessity out of urgency, and it is no more optional. In some countries, people are advised to stay at home for weeks enforced under various public safety laws. This lockdown is completing several months now in China, Australia, Canada, and some EU countries, America, however, seems to wake up late to this reality and is now enforcing social distancing and lockdown hastily.
As of today, the global engine is shut completely, barring essentials.
The Coronavirus has spread its footprint all over the globe and most of the countries are practicing a lockdown and advocating social distancing to all its citizens
Virtual Marketing existed much longer than you think.
Marketing virtually is not a new concept. It has been here since the advent of digital media and allied technologies.
It is only that the Coronavirus outbreak has made virtual marketing even more relevant as most of the businesses are struggling to survive and grow in this era of uncertainty and economic downfall.
The need to stay connected with customers and prospects in such times of crisis is central to the survival of any business.
The world economic situation is bleak, at least this is what all economic pundits have been predicting since the outbreak of COVID-19. Most of the small businesses are shutting down and only those with the backing of the digital infrastructure are keeping afloat somehow.
It is now or never phase for businesses to evolve and incorporate technological advancement in all possible dimensions.
Where to Start?
A good first step would be to identify where the business currently stands in terms of Digital Technology adaptation. Running through a checklist or a quick audit can help to diagnose bottlenecks & opportunities available across the departments and business units.
The priority is to keep the most essential functions of business alive and running during this course of impending economic downfall.
Example & tips on checklists:
Marketing & Sales:
Since this is where the lifeblood of the organization originates, so our advice would be to salvage the marketing and sales engine the foremost.
11 Questions to gauge Marketing & Sales readiness and identify gaps
Does your business have a web presence? Does it need an upgrade to include modern CTA`s & other features?
Is your marketing department employing the latest digital tools to maintain customers' database & lists? CRM?
Are you present on top social networks? Are they being actively updated?
Is your marketing and sales team equipped with the latest tools to send emails and newsletters in a timely fashion?
Does your business have a good presence on search engine results on relevant searches?
Does your business have a google my business profile setup?
Are your website and other owned online channels are effectively tracked using modern digital analytics and performance tracking tools?
Are your online web properties generating enough traffic?
Do you have an online blog or a place where you can publish vital business information and can broadcast to your existing or potential customers?
Are your marketing and sales teams equipped with modern conferencing tools to stay connected and walk your prospective customers through the proposals and strategy?
Are your marketing and sales team have a common cloud-based repository of proposals and other essential documents, presentations, etc.?
There could a lot more checks depending on the nature of your business. But above are applicable for a majority of the businesses.
Production/Operations/ Deliveries:
This is where the deliverabls are cooking and existing clients are kept happy!
5 Questions to gauge Operations & Delivery readiness and identify Gaps
Can your different operation teams work & deliver remotely? Or Physical presence is the only way possible.
Can any of the immediate deliveries be done remotely?
Identifying small teams that can deliver remotely, if not all, maybe a smaller department can still produce and deliver?
Are the Tools, Hardware, and IT infrastructure to make remote collaboration possible in place?
Does logistic support to make remote collaboration happen exists?
Since operations can be so different in the manufacturing and service sectors that no one size would fit them all. Every business has to custom cook its checklist.
Still, the majority of the service sector and some of the heavily automated manufacturing can happen under remote supervision. Provided enough technology backing exists.
Most of the manufacturing will anyways be heavily automated post-crisis world with immense AI backing. As predicted by a lot of economic pundits.
Imagine a factory running on its own with minimal human intervention all by robots and artificial intelligence, supervised remotely by human operators and supervisors.
From input to manufacturing, from packing to shipping, the entire value chain shifting to robots, drones, and intelligent computer systems. That is the post COVID manufacturing world.
Other Ancillary Business units [Finance / HR /Admin ]:
This department is mostly the paperwork and can easily be migrated to a virtual environment.
6 Questions to gauge Finance/HR/Admin readiness and identify Gaps
Does your organization have the required software & hardware to manage recruitment functions? Intranet / HRM/ Payroll processing/ Job portal etc.
Does your organization have the required software apps to manage finance functions? Billing and Invoicing application / Remote banking interface. Digital signatures, etc.
Does your IT /System department have enough hardware units available
Does your IT /System department have capabilities to remotely access and deploy essential security and provide remote support?
Does your organization have secure IT infrastructure capabilities to make the exchange of documents and other vital information possible in a virtually secure environment?
Does your organization have enough licenses or different apps in use?
Again, as every business is different so would be the needs of each business.
Of all the functions described above, it is the marketing and sales which will be pivotal in driving the fate of any business in such times of global economic downtrend, thus in the next section, we will talk exclusively about how to keep marketing and sales alive in the era of social distancing. 
Virtual Marketing during Coronavirus enforced social distancing
The number of businesses embracing digital marketing is increasing as you are scrolling through this article.
There are a lot of interesting things happening on Google search, for instance, the Google US is registering a rising trend on terms like "SEO", online marketing, digital marketing since March COVID-19 outbreak.
See below, a couple of screenshots taken from the Google trends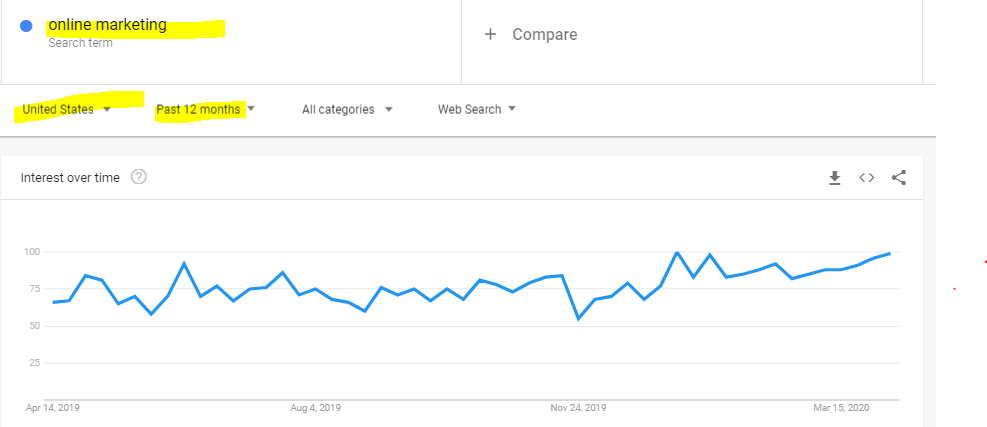 Sea of Opportunities! for Seekers.
In a report here, it is mentioned that gaming ad spend is registering a 25% jump during coronavirus outbreak and retail a 34% jump in ad spend
Also, mobile app usage has surged by 20% during the Coronavirus outbreak and the time spent on various social networking portals is also rising steeply during this pandemic.
As Stanford economist Paul Romer once pointed "a crisis is a terrible thing to waste," and in the light of the above facts, it can be safely concluded that interest in digital channels is rising in the era of social distancing, and that is a green light for all businesses to evolve and embrace the digital channels wholeheartedly!

Many online forums and expert bloggers are speaking of the opportunities this great impending global economic reset is going to present before businesses. Those who shall embrace digital channels and technology will survive and rise stronger. 
More so for keeping marketing engine alive, as the traditional ways of interacting with, or engaging with customers are no more viable, hundreds of conferences are being canceled or postponed, media launches, PR events are all stopped.
With global restrictions on travel, businesses are forced to seek alternative ways to engage with customers both in B2C and B2B domains.

And this is forcing even traditional businesses to rethink their marketing!
The "Attention" economy and "Zero Sum" game!
Is your business ready to tackle the challenges of the future?
"Attention" is a precious commodity for a marketer. In today's world of unlimited distractions, thanks to ever-increasing digital media penetration, Attention span only has shrunk, making it even more valuable.
Any business today can not afford to lose touch with their customers. It is more likely that customers will forget in a much shorter span than ever!
The Whole of the marketing practices today follows the theory of zero-sum, ensuring that someone's loss is counterbalanced with someone else's win. The customer is either with you or with your competition.
Losing touch with your customer right now could also mean your competition winning that ex-customer of yours.
Bonus – Free tools to assist remote working & marketing during social distancing!
These tools can help your essential business functions continue seamlessly in such pressing times!
4 Free tools to help communication and exchange of information while maintaining social distancing
1. Slack: Slack can help your organization to stay in touch. It is a mini virtual office, a private chat room, where your internal and external teams can collaborate, exchange notes and ideas in their separate private zones called channels. In such times of social distancing, nothing can beat the importance of having a tool like slack facilitating the smooth flow of communication organization-wide and in a structured and organized manner. It has a free plan suitable and enough for most of the small businesses. It is also available on the Android and iOS apps.
2. Zoom: Nothing can beat the "face" value. Humans are programmed to feel comfortable and trust in the communication where they can put a face to the word spoken or read. Zoom is a video conferencing tool used by millions of people across the world now. It is fast and sufficiently reliable. Zoom helps business host group video and voice meetings, conferences and other group or private sessions, thus eliminating the need for physical presence. It is by far the most effective tool which could help your team and customers stay in touch with a human touch in such times of social distancing. They have a free plan for up to 100 participants, which is sufficient for most of the small businesses and teams.
3. Google Meet: Google meet is also a popular video conferencing tool that facilitates one-on-one and group meetings. While zoom is aimed to cater to business needs with tons of bells and whistles, Google meet is a simple tool. It serves the simple function of connecting people virtually from anywhere using a Desktop or Mobile and it accomplishes that well. The only con is that is not a standalone offering and comes as a part of G-suit which is a paid business cloud service package by Google. Recently, as the COVID-19 outbreak has forced a lot of businesses to switch to remote working, Google has decided to waive off the fee and it is reported here that a free offering is available till July-20.
4. Skype: Almost everyone familiar with the internet is got to be familiar with Skype, the oldest of the lot and one of the most popular video chat tools for decades, yes, our beloved Skype. Skype post-acquisition by Microsoft in 2011, has evolved from just being a desktop fast and free video chat tool to a full-fledged enterprise video conferencing platform. Skype for businesses has tons of tools to facilitate meetings and help exchange documents etc. in a secure environment. Skype is still free, the business offering is now part of Microsoft office 365 suit and known as Microsoft teams.
Free tools to reach out to prospective customers & staying in touch with existing customers!
Emails Newsletters:
E-mails are eternal. Since the inception of the internet, email communication has only evolved and stayed relevant.
E-mails were the fundamental necessity paving way for the conception of the internet as we see today, primitive as per today's standard, yet email has only grown more relevant as the most popular mode of digital communication.
13 Popular email marketing tools with Free Trial or Free Tier available:
1. HubSpot: Free plan available ~2000 email /Month free
2. Omni Send: Free plan available ~Unlimited subscribers / 15000 emails
3. Sender: Free plan available ~2500 subscribers / 15000 emails
4. Mailchimp: Free plan available ~12000 emails/Month to 2000 Subscribers
5. Sendin Blue: Free plan available ~Unlimited contact / 300 email/Day
6. Sending Pulse: Free plan available ~15000 emails /Month
7. Get Response: Free Trial available /No Free Tier
8. Aweber: Free Trial available /No Free Tier
9. Mooseend: Free plan available ~ 1000 subscriber / Unlimited emails
10. Zoho: Free plan available ~2000 subscribers / 15000 emails
11. MailerLite: Free plan available ~1000 subscribers / 12000 emails
12. Benchmark: Free Trial available /No Free Tier
13. Drip: Free Trial available /No Free Tier
The above tools can get you started with essential operations of the businesses including marketing while your manpower is deployed remotely.
Read our other parts for more tips and tools for staying afloat and seizing the opportunities hidden in this great reset! Learn on effectively remote managing teams during COVID-19 Lockdown here!